Aguero wants to be the best
New Man City star Sergio Aguero wants to eclipse Lionel Messi as the best player in the world.
Last Updated: 14/09/11 11:35am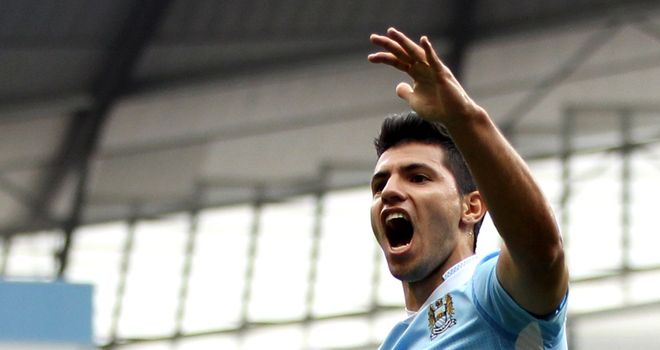 Lionel Messi told Sergio Aguero to join Manchester City because he would have a greater chance of winning trophies and the new Etihad Stadium star now wants to become the best player in the world.
Aguero joined City this summer in a £36million deal from Atletico Madrid and he has taken the Premier League by storm, with a hat-trick against Wigan taking him to six goals.
The Argentine is expected to lead the City attack in their UEFA Champions League debut against Napoli on Wednesday, when they seek to maintain a 100 per cent start to the season.
And Aguero has trophies in his sight after being advised City were the best bet for silverware by Barcelona star, compatriot and reigning Ballon d'Or Messi.
Aguero said in the Daily Star: "Yes, I did speak to him (Messi) before coming here.
Good relationship
"We have been good friends for a long time. I did ask him and he wished me luck because, as I said, I have come here to try and win titles and he just told me winning titles is great and that I will have a bigger chance here.
"He said, 'I hope you do win them, you will win them' and wished me luck, so we do have a good relationship.
"We discuss other matters, but mostly related to football because we see each other quite often or speak quite often, so we already know what is going on in each other's life."
Trophies with City are Aguero's priority, but he also has ambitions towards eclipsing Messi as the best player on the planet.
"There's no doubt Messi is currently the best player in the world," he said in The Guardian. "He's won the Ballon d'Or the last two years.
"But it is my dream too to reach such a level and I work every day with the aim of winning that trophy one day - so I can say, 'Yes, I am the best player in the world'."
Difficult
Ahead of kick-off against Napoli at Etihad Stadium, Aguero thinks City are capable of surprising the best teams in Europe.
The 23-year-old said: "There is a very special feeling in Manchester right now.
"I am beginning to understand how much this game against Napoli, and this whole competition, means to City's fans. They believe we can go a long way in this competition and I think they are right.
"We have all the conditions in place to go much further than anyone might have expected just a few months ago.
"But we are starting to appreciate that for the City fans, who have supported the club in difficult moments over many years, it will mean most to them if we do well."