Sinclair - Roar us on to win
Scott Sinclair has appealed to the Swansea fans to roar them to their first-ever Premier League victory.
Last Updated: 15/09/11 5:16pm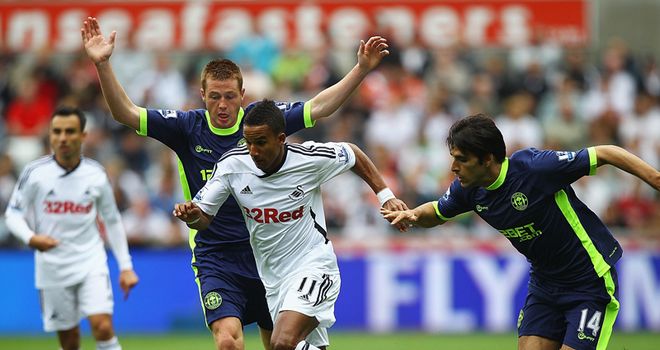 Scott Sinclair has appealed to the Swansea fans to roar them to their first-ever Premier League victory.
The Swans have yet to score in the top flight this term but Sinclair hopes Brendan Rodgers' side will rectify this statistic against West Brom on Saturday.
He has appealed to the home fans to get behind the team once again as they seek a win to haul themselves out of the early relegation zone.
He told the club's official website: "The fans have always been brilliant with us - no matter what the score is.
"Against Arsenal last weekend, all we could hear were our fans singing away and supporting us. That's what every player wants to hear, particularly at an away ground.
"At the Liberty it has been absolutely incredible. Against Wigan and Sunderland the place was absolutely rocking and we were unlucky not to score and win those games.
"A lot has been made of the fact we haven't scored yet, but I'm sure with another sold-out Liberty on Saturday the fans can cheer us on to victory."
Frustrating
While Sinclair admits it has been frustrating not to score, he is not too worried because the Swans have been creating chances.
"It has been a little frustrating, but we don't let it get to us and affect our performances," said Sinclair.
"They key thing is that we are creating chances. If we don't do that then it's time to worry.
"But we've created chances in our games, and it's a matter of time before we take one.
"When that happens, I'm sure the goals will flow."
Disappointed
He added: "I've been disappointed with myself because I'm yet to score after getting 27 goals last season. But I've hit the crossbar twice and I'm getting closer.
"Danny (Graham) has gone very close too, and once he gets a goal he'll score plenty more because he is a quality player.
"But I look around the team and I see goals - not just from Danny, myself, Leroy (Lita), Nathan (Dyer) and (Stephen) Dobbie, but from the back and midfield too.
"We don't just look at the forward players and say 'it's your job to score' because it's not. We defend as a team and attack as a team - everyone has to chip in.
"But we're all confident and feeling positive about things. That's very important.
"Hopefully we can get a goal and three points on the board on Saturday because the team and supporters deserve it."