Fergie blasts De Gea 'agenda'
Sir Alex Ferguson has blasted a perceived media agenda against David de Gea, who will start against Chelsea.
Last Updated: 18/09/11 4:11pm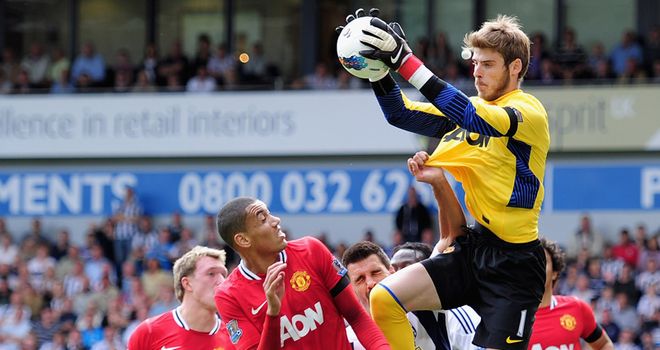 Manchester United boss Sir Alex Ferguson insists David de Gea will start against Chelsea and has blasted a perceived media agenda against the young keeper.
The 20-year-old Spanish shot-stopper switched to Old Trafford in a £18.3m move from Atletico Madrid in the summer to replace retiring Edwin van der Sar.
Since then, he has been under intense media scrutiny, especially after making several early season blunders, while fellow keeper Anders Lindegaard, who joined the Red Devils last November from Aalesund, put in a commanding display in the midweek UEFA Champions League draw with Benfica.
Asked if Lindegaard's good performance had presented him with a selection dilemma to face Chelsea, Ferguson said: "Not a bit.
"There is an agenda from the media on de Gea.
"We experienced that again on Wednesday night. For some reason they seem to be desperate for the boy to fail. That's the impression I get and I don't understand it.
"And they'll all want interviews from him when he's doing well.
"He'll be back in the team. That was always the arrangement. Same as at Bolton last week.
Deal
"He didn't have to deal with stories about being left out because he knew he was playing.
"He knew on Thursday. So waking up to that wouldn't have been a problem.
"He doesn't speak English, he's looking for a house, he's learning to drive here, he's come into another country, he doesn't know the culture and he's 20 years of age. There's a lot he's had to deal with.
"But he's shown great composure about the whole thing. He's not got himself flapping about in the goalmouth. He's absolutely outstanding, the boy. Tremendous."
The United boss insists Lindegaard understood the club were going to bring another keeper in and he is happy to fight for the No.1 jersey.
"We've got two terrific goalkeepers," he said. "Anders has done well, he's bided his time, he's been patient.
Understood
"He understood the situation when we signed him. He knew we were going to sign another goalkeeper.
"It was put to him that this season he would be in a position where he could challenge for the place and he was happy with that.
"He was delighted to join United and he showed on Wednesday he's a good goalkeeper.
"The great thing about the two of them is their distribution of the ball to the back four and midfield players. That's a fantastic asset in the modern game.
"David started seven moves that ended in Bolton's penalty box."
Meanwhile, Ferguson is looking forward to pitting his wits against new Chelsea boss Andre Villas-Boas.
"I'm interested in what their team is going to be because they've got a lot of options.
"This is an important match, as is City in October. But I'd rather lose to them and win every other game.
"All you want is to win the league and I still think that 83 points will win it."