Jagielka glad with teamwork
Everton defender Phil Jagielka stresses their gameplan is focused on playing as a team and not on relying on one individual.
Last Updated: 19/09/11 9:33am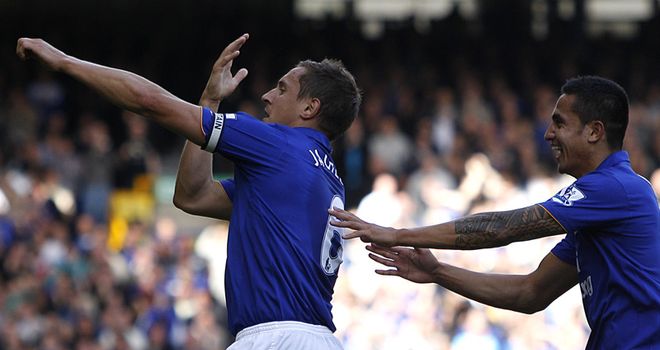 Everton defender Phil Jagielka has stressed that their gameplan is focused on playing as a team and not on relying on one individual.
The Toffees came from behind to defeat Wigan Athletic 3-1 at Goodison Park in the Premier League on Saturday, thanks to goals from Jagielka, Apostolos Vellios and Royston Drenthe.
David Moyes' side have now collected seven points from their opening four matches and have had six different goalscorers in Leon Osman, Leighton Baines, Jagielka, Vellios, Drenthe and Mikel Arteta (now at Arsenal).
However, Jagielka believes that this is a good thing and not something to be negative about.
Teamwork
"We all play a part not only scoring goals but defensively," explained the centre-back. "We're a team from front to back and that is the way we will be to the end of season.
"We have never relied on one person. Tim (Cahill) got nine and Jermaine Beckford (now at Leicester) got 10 and the two or three others got to three or four.
"I am sure the gaffer would love five or six of us on five-plus and a couple of other ones in double figures.
"I'm sure he will address that but we are only four games in and the goalscoring is not too bad at the moment."
Rare goal
Reflecting on his goal against Wigan that was his third in four years, Jagielka said: "It was a quite simple goal. Tim jumped about five foot in the air and thankfully it came back off the bar and straight to my head.
"We will try to build on that, we know we have to help the strikers out with the goals. It (his lack of goals) is a little bit embarrassing. It is something I will try to address, although I've not had that many chances.
"We have changed things around with set-pieces this year and I feel more confident every time I have come up that if I am not going to get a chance someone else will."