Bale praises summer recruits
Tottenham Hotspur winger Gareth Bale has hailed summer signings Emmanuel Adebayor and Scott Parker.
Last Updated: 19/09/11 6:54pm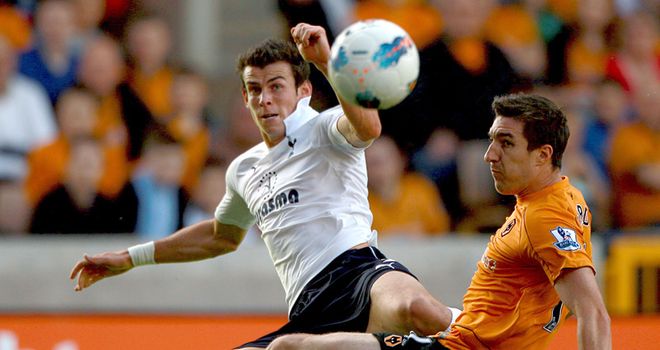 Tottenham Hotspur winger Gareth Bale has hailed summer signings Emmanuel Adebayor and Scott Parker and believes that they have brought what Spurs lacked last season.
Adebayor is on loan from Manchester City while Parker was signed from West Ham United this summer and both players have proved to be crucial for Spurs so far this season.
Adebayor was on target twice in Spurs' 4-0 victory over Liverpool at White Hart Lane in the Premier League on Sunday, while Parker has proved to be a reliable anchorman in midfield.
And Bale believes that the duo has made them more capable of finishing in the top four this campaign.
Character
"Adebayor is a great character," enthused the left winger. "He gets along with everyone. He has lifted the spirits in the place.
"He is a good character to have in the dressing room and we need someone like that so it's a great addition to our squad and hopefully he can keep on going.
"He is a lively, bubbly character and it's great for him to be here. The longer he stays the better. On the pitch he has been fantastic.
"He can play the ball on the floor, in the air, and he has scored three goals in two games and that's exactly what we needed.
"He and Jermain Defoe have struck up a good partnership too and hopefully they can continue to do that."
Bale is also impressed with Parker and said: "Scott is a leader. He shows that on the pitch. He is aggressive and he plays with his heart on his sleeve.
"He rallies us up all before games and gets us motivated so they are two great signings for us and they have shown that already on the pitch. We have a better team now than last year."
The Wales international is also glad that Spurs could hold on to playmaker Luka Modric, who was heavily linked with a move to Chelsea in the summer but eventually had to remain at White Hart Lane.
"Keeping Luka was massive for the club and the team so we are aiming to achieve things and that's why we want our best players to stay," explained the 22-year-old.
Great strike
"His goal against Liverpool was a great strike. The keeper had no chance.
"Luka has been fine throughout all that has happened. He has been a true professional and has been great with everybody."
Bale added: "There is no doubt in the dressing room that we can finish in the top four. We showed how good we are against Liverpool and Wolves last weekend and in patches against Man Utd and Man City.
"We are all confident we can get in to the top four and I am sure that we will."