Nunez putting Leeds first
Leeds playmaker Ramon Nunez is hoping to get another chance to impress manager Simon Grayson in the Carling Cup.
Last Updated: 20/09/11 8:48am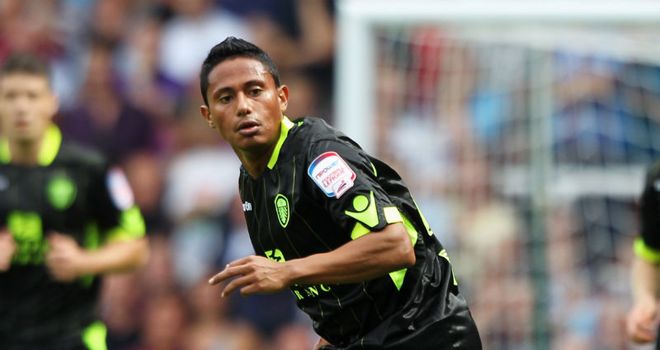 Leeds United playmaker Ramon Nunez is hoping to get another chance to impress manager Simon Grayson in the Carling Cup.
The Honduras international has already lit up the cup competition with doubles in previous rounds against Bradford and Doncaster.
Nunez has passed up the chance of featuring against the likes of Venezuela and Paraguay to be available, a fact that Honduras coach Luis Suarez understands.
The Whites tackle rivals Manchester United in the third round on Tuesday evening and Nunez is just hoping to have the chance to shine once again.
Opportunity
"This competition may not be everyone's top priority, but it means everything to me, because it has given me the opportunity of a lifetime," commented Nunez.
"I haven't figured too much in the Championship, but I have in the cup, and it's a chance I wasn't going to pass up.
"I knew the last international break was going to clash with the Bradford tie, so I told the coach I would be better off here. I just couldn't miss out on a chance with Leeds and it could benefit Honduras, because this sort of experience can only make me a better player.
"Even so, you wonder what the response might be. Some coaches might not take too kindly to it, but fortunately Luis was fine. I was thinking about Leeds first, but there was some consideration for Honduras as well, because the Carling Cup has already been good for me.
Chance
"I scored twice against Bradford and twice against Doncaster, and now I'm just waiting and hoping for the chance to play against Manchester United.
"It's the sort of thing I have dreamed of since my father moved the family to Dallas to give me and my sister Estela a better life. I was only five, but I was already kicking a ball around and dreaming of nights like this.
"I'm living that dream now, and it's just a huge platform for me to show what I can do. The way it all came together for me against Bradford and Doncaster, after we were behind in both games, was unreal.
"Now it's United and I just hope I'm picked, because my mum and dad and Estela are going to be watching on television in Dallas and scores of relatives and friends are tuning in back in Honduras."