McCoist coy on selection
Ally McCoist has revealed he will resist naming his goalkeeper for the League Cup game until the last possible minute.
By Soriebah Kajue
Last Updated: 20/09/11 8:41pm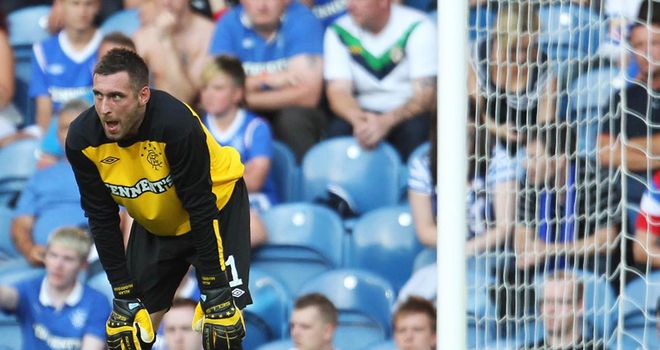 Ally McCoist has revealed he will resist naming his goalkeeper for the League Cup game against Falkirk until the last possible minute.
Reserve goalkeeper Neil Alexander has played in all the fixtures in this competition over the last two years, winning it on both occasions.
First choice Allan McGregor made a shocking blunder against Celtic in the Old Firm game on Sunday when he allowed Badr El Kaddouri's shot to squirm through his legs.
However, McCoist maintains it is not a formality that he will follow previous years and rotate his goalkeepers in this competition.
Goalkeepers
"We have still to have a chat with both goalkeepers and I'll have a chat with Kenny McDowall and Ian Durrant about it," said McCoist.
"We are blessed with two really good goalkeepers and we are very happy to be in that comfortable position where you can rely on both goalkeepers coming in at any time and doing a job for you.
"In terms of a decision on who will play, that will be kept under wraps until nearer kick-off."
Some people have suggested McCoist may play McGregor in a bid to rebuild his confidence after the error.
Character
Yet, his manager believes his first choice stopper has enough experience and character to handle this latest setback, irrespective of whether he plays against Falkirk or not.
He added: "Allan is a good enough and confident enough goalkeeper to handle any situations.
"As the last line of defence, any mistakes goalkeepers make are obviously highlighted more than anything else and Allan knows he made a mistake.
"I've got no issues with Allan at all, he is a top-class goalkeeper, a confident goalkeeper and a very, very good goalkeeper and that will remain."