Mowbray frustrated with draw
Tony Mowbray was left frustrated after watching Middlesbrough miss out on the chance to return to the top of the Championship.
Last Updated: 24/09/11 7:25pm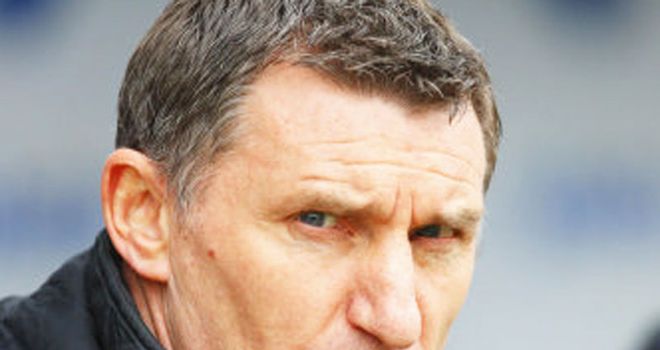 Middlesbrough manager Tony Mowbray was left frustrated after watching his side miss out on the chance to return to the top of the Championship after a goalless draw at home to Ipswich.
Both sides had multiple chances in an entertaining second half but neither side could force a breakthrough with Boro failing to score for the first time in 21 games.
Nevertheless, Mowbray was pleased that his team had maintained their unbeaten start to the season.
Frustrated
"Yes, maybe we were left frustrated," he said. "But they will be frustrated too.
"Both teams set up to attack and create opportunities to attack the opposition and it was a good game against a good team.
"Ipswich are a good side who have spent a bit of money and made some good signings and they'll do well this year.
"So we will take the positives out of it. On another day we may have been talking about losing it 1-0 but we got a draw. We are still unbeaten this season. We will take the point, put it in the bag and move on."
Boro have a 100 per cent record in their away games but have drawn three out of four at the Riverside.
"Yes, maybe we have drawn a few more than we'd have liked," Mowbray said. "But if you were to reverse our home result and away results then people would be talking about it being a decent start to the season. And it is. These things will even themselves out."
Opportunities
Meanwhile, Ipswich boss Paul Jewell was equally happy to take a point, although he felt his side edged the chances.
"I thought we had the better of the opportunities in the first half," he said. "In fact two of them - (Ibrahima) Sonko's header and (Michael) Chopra's volley were gilt-edged.
"We were disappointed to go in 0-0 at half-time but we knew they would come at us more in the second half and they did and they created a few chances too and so did we. (Jason) Scotland hit the post.
"To be honest, I'm amazed it finished 0-0 in the end because both sides set out to attack and played the game to win it.
"But I'm not too disappointed. We've come to Middlesbrough, who are a quality side and who could have gone top of the league today, and we've pushed them all the way. That's a decent day's work.
"We did well and not just going forward. We defended manfully too and I hope we can keep this mini run of clean sheets going. If you keep a clean sheet you don't lose the game."