McClaren glad with 'ugly' win
Nottingham Forest boss Steve McClaren admits that their performance against Watford on Saturday was not one to be proud of.
Last Updated: 24/09/11 9:12pm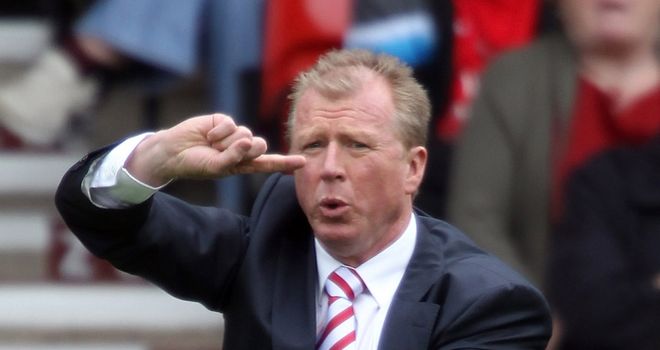 Nottingham Forest manager Steve McClaren has admitted that their performance against Watford in the Championship on Saturday was not one to be proud of, but was pleased with their narrow 1-0 victory.
Forest picked up only their second win of the season as Ishmael Miller's goal in the 61st minute because of a mix-up in the Watford defence proved to be the difference between the two sides at Vicarage Road.
McClaren lined up his team in a defensive formation that just about staved off the pressure from the Hornets, but the former England head coach was glad to have won and get out of the relegation zone.
Ugly win
"We hope it's (the win) a catalyst but there's still a long way to go before we can say that," he explained. "But it was an important win, we've had a tough week and we needed some pride back.
"Today was to say we don't concede any (goal) and can keep a clean sheet because we've got players who can score goals and be a threat.
"It was a performance I wanted to see from them - battling, full of character, full of attitude, getting blocks.
"We call it a horrible win, an ugly win and I don't think I'll be watching it on the coach on the way home."
Watford boss Sean Dyche lamented that his team conceded a "soft" goal but was happy with his players' overall performance.
Soft mistake
"That was a negative that cost us in a cruel game where we're certainly good value for a draw," he said. "There were four (chances).
"It's one of them where that's the difference in a game sometimes - a soft mistake and four chances where you're looking to score a minimum of one out of four.
"We played well, we controlled large parts of it (the game), we were well aware of their change in tactical shape before the game so we knew that and for a large part we delivered very good parts of our performance. It can be cruel sometimes and it was cruel tonight I felt."
He added: "If we keep performing like that we're going to win football matches, that's the big deciding thing, performance levels, and I'm a great believer in them."