Edu promises goals
Maurice Edu has vowed to follow up his superb strike in Rangers' 4-0 win over Dumfermline in the SPL with more goals.
By Jessica Miller
Last Updated: 25/09/11 7:29pm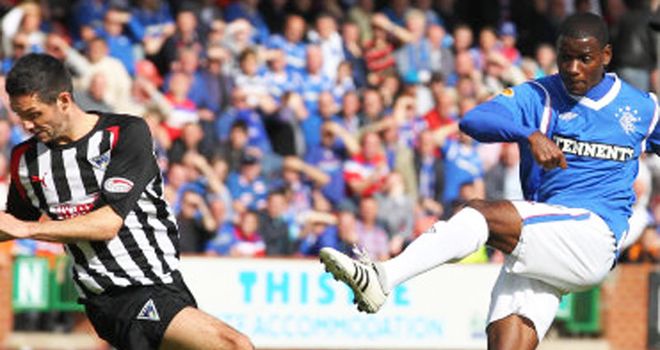 Maurice Edu has vowed to follow up his superb strike in Rangers' 4-0 win over Dumfermline in the Scottish Premier League with more goals.
The midfielder netted for the second time this season with an impressive long-range effort after Carlos Bocanegra had opened the scoring before Steven Naismith grabbed a double.
The American international added to the goal he scored in the SPL game against Inverness and believes he has plenty more to offer.
He said: "As a midfielder scoring some goals is definitely something I can add to my game, whether it be long range shots or getting into the box.
"It's important as a midfielder to try to add a little bit more to your game and it's definitely something I can do through goals.
"It will help the team and take a little bit of pressure off the attacking players, the wide players and strikers, if we start chipping in with some more goals from midfield."
Form
Edu has been criticised for his poor form of late but has shown improvement in recent games. He says he knew himself that he had to do better.
He said: "It's not so much what other people say as myself. I know what I'm capable of doing and I just wanted to up my level.
"I know what my standards should be and it's just a matter of me performing and being pleased with that and helping the team and making sure I'm contributing to the team and helping us to win."
The victory over Dunfermline provided a much-needed morale-boost after the holders suffered a shock Scottish Communities League Cup exit to First Division side Falkirk.
Edu said: "It was a great result, especially after the disappointment in midweek. It was important for us to bounce back.
"The whole team - the starting eleven and the guys who came off the bench - all showed a tremendous amount of determination and will to win and I think that's what got us over the line. We played some good football as well.
"Playing for a club like this, you know what the expectations are. You come here and you want to win things so to be out of the competition, we felt gutted.
"We wanted to prove [a point] to ourselves and the fans and I think we did that. We bounced back and kept our heads high and put together a solid 90 minutes of football."