'Unstoppable' Bale earns praise
Tottenham midfielder Rafael van der Vaart believes it is an almost impossible task to contain Gareth Bale.
Last Updated: 26/09/11 8:20am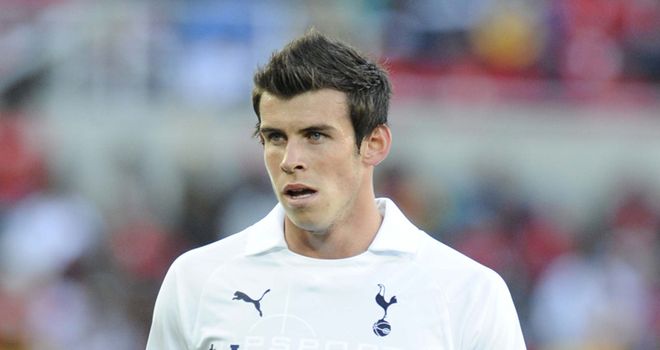 Rafael van der Vaart believes it is an almost impossible task to contain Gareth Bale and Harry Redknapp thinks the only way teams can stop the Welshman is to try and kick him out of the game.
Steve Gohouri was sent off in Tottenham's game against Wigan on Saturday following a couple of fouls on Bale, just a week after Liverpool's Martin Skrtel also received his marching orders for twice bringing down the winger.
Van der Vaart understands the difficulties opponents face in trying to keep Bale quiet and has praised his team-mate for tormenting so many Premier League defences.
"Bale is great, so quick and strong," the Dutchman said in The Sun.
"I'm just glad I don't have to mark him. I feel sorry for those that do. There have been a lot of cards for fouls against him, but that's because it's impossible to stop him at times.
"Gareth goes on one of those amazing runs, and all a defender can do is resort to kicking him or pulling him down.
"Sometimes, when he has been floored, you think the challenge has been so bad that he is heading for hospital. But he bounces back up again, and you just look on in admiration."
Manager Redknapp agrees with Van der Vaart that Bale is on the receiving end of too many fouls and has urged referees to keep on taking action against offenders.
Redknapp said: "Some try to stop Bale by just hacking him down. It doesn't work. What can referees do to stop it? Carry on giving out yellow and red cards. That is the only way."
Better squad
Bale's performance may have been the most eye-catching in the 2-1 victory over Wigan but Van der Vaart was also impressed by Scott Parker, who has slotted into central midfield seamlessly since joining from West Ham on deadline day.
Van der Vaart said: "I thought Scotty was the best player on the pitch. He is unbelievable. He's not that big, but he is a great player and so strong.
"He is fantastic for me, because he gets the ball and plays it to me and is always available to keep the move going.
"He's not just a holding midfielder. There is more to his game than that, and he proved it."
Van der Vaart believes Tottenham can mount a stronger challenge in the Premier League this season after bringing in the likes of Parker and Emmanuel Adebayor over the summer.
He added: "We have more possibilities, more options, and we are capable of producing better football. So when you weigh it up, I would say the squad is better now."