Shawcross hails Stoke showing
Ryan Shawcross believes Stoke City's draw with Man Utd was as good a result as the team have had since winning promotion.
Last Updated: 26/09/11 9:33am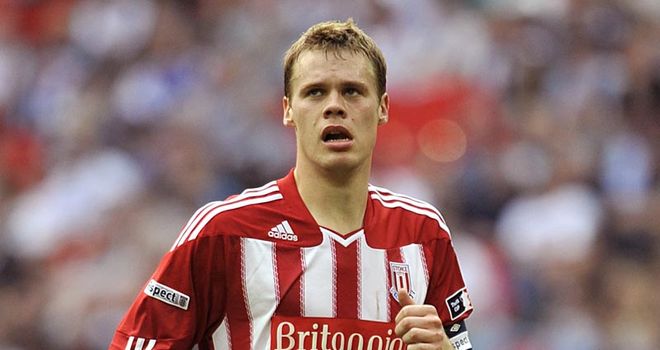 Stoke skipper Ryan Shawcross believes his side's draw with Manchester United was as good a result as the team have had since winning promotion.
The Potters ended United's 100 per cent start to the season with a hard-fought 1-1 draw at the Britannia Stadium on Saturday and it was the first time Stoke avoided defeat against the Red Devils since coming up to the Premier League in 2008.
Former United defender Shawcross was delighted with his side's showing as they held free-scoring United to one goal and a draw.
"It's definitely the best result since we got in the Premier League in my opinion, especially when you consider the form that they have been in this season," admitted Shawcross.
"Anything against the champions is fantastic. The way they've started this year [makes it] even bigger, they've been destroying teams. To keep them to one goal with the firepower they've got is a great achievement.
"I enjoyed that game as much as I have enjoyed any in my career. It was fast, it was action-packed and it was exciting. We had chances, they had chances, it had everything really.
"A point against United is fantastic for us, and to come off the back of the games we have had at the Britannia Stadium and remain unbeaten is a superb achievement."
Best performance
Stoke winger Jermaine Pennant echoed Shawcross' assessment, admitting it was one of the team's best performances since he arrived at the club.
"That was one of our best performances since I came here," noted Pennant.
"We really went at them in the second half, which is the best way to play against them.
"If you sit back, let them dictate the pace and pass it around, you're going to be in trouble. It's a massive point."