Cole eyes England recall
Joe Cole hopes Fabio Capello will keep an eye on his progress in French football and has reiterated his desire to stay with Lille.
By Patrick Haond
Last Updated: 27/09/11 11:21am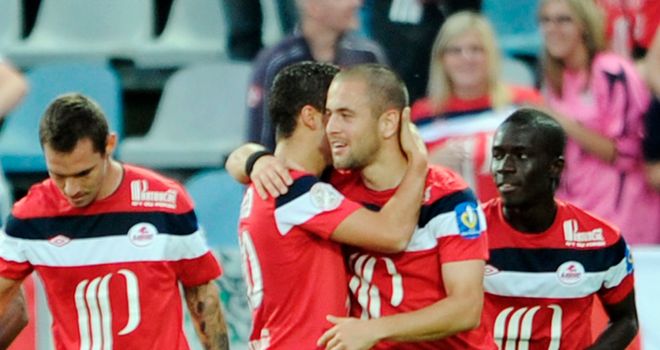 Joe Cole hopes Fabio Capello will keep an eye on his progress in French football and has reiterated his desire to stay with Lille beyond the end of the season.
Cole joined the Ligue 1 champions on loan from Liverpool on deadline day after a frustrating first season at Anfield.
The midfielder has loved every second of his time with Lille so far and is performing well too, having left the pitch to a standing ovation on Saturday after scoring a stunning first goal for the club in a 1-1 draw with Lorient.
While his decision to head abroad rather than take up an offer to stay in the Premier League came as something of a surprise, Cole insists he has always liked the idea of playing overseas.
"I talked to manager Rudi Garcia and he has the same game philosophy that I have, so I really wanted to come," Cole explained to L'Equipe.
"You have to make choices in life, and it was certainly not the simplest to me. The easy options were to remain in London or England.
"But I was excited. We are competing for the national title and I can play in the Champions League.
"Finally, it is a young team with great guys that really play good football and I have always dreamt of playing abroad."
National pride
Cole believes it would benefit the England national team for more home-grown players to experience football in a foreign land, as he does not necessarily believe the style of the Premier League is ideal for developing technique.
"The English players get experience abroad which can enrich our national team," he said.
"In Italy, France or Spain, the game style is more Latin.
"The Premier League is not the best competition, it is just different and unique. Some people told me I was right to go abroad."
Cole has fallen out of favour with Capello over the past couple of seasons but has always taken great pride in representing his country.
He does not think his international career is over just because he has gone to France and hopes to earn an England recall, although it is not something he is worrying too much about.
"Will Fabio Capello watch Ligue 1? I hope so," said Cole.
"It is not my major concern so far. First, I want to be consistently good.
"If I get called back into the national team, I would be the happiest man. I love to play for my country. "
Never be famous
Looking further ahead, Cole admits he would love to remain at Lille beyond next summer when his loan deal expires and he is due to return to Merseyside.
"When I lived in Chelsea, everyday there were paparazzi in front of my door. At Lille, I can walk in the streets confidently. People are polite and respectful. It is great to enjoy the city freely," he said.
"Anyway, in England you are forced to deal with the press, you don't have any choice. If I had any choice, I would have liked to never be famous. We are just footballers, aren't we?
"At Lille, I found quality players with unequalled joie de vivre in the changing room. I enjoy myself and I have fun every day. There is a great atmosphere. It reminds me of my first season at Chelsea.
"Will I remain at Lille next season? That is possible. They are happy with me, and vice versa, so why not?
"We have started to build a bridge. I really love to play here. I hope it will be a success for everyone."
Cole has been particularly impressed by Eden Hazard since joining Lille and has backed the Belgian starlet, who has been linked with a move to the Premier League, to become a superstar of the game.
"Everyone is talking about him in England. Hazard is the best young player I have ever seen at such an age," said Cole.
"He has everything to become one of the best players in the world."