Soldado aware of Chelsea threat
Valencia's Roberto Soldado has told skysports.com that defeating Chelsea at home in the Champions League on Wednesday will be tough.
By Francisco Acedo
Last Updated: 28/09/11 9:32am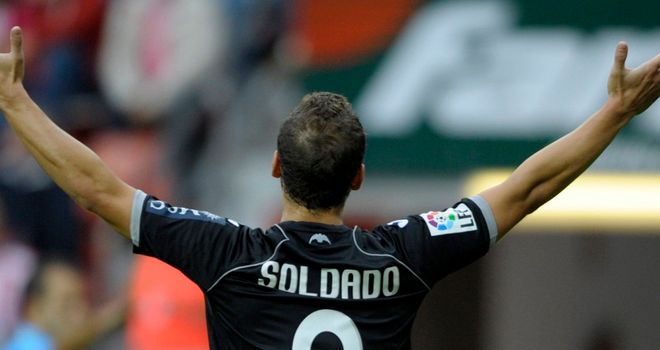 Valencia forward Roberto Soldado has admitted that defeating Chelsea at home in the UEFA Champions League on Wednesday will be tough.
Los Che host the English giants at the Mestalla in Group E of Europe's premier club competition, having drawn their opening match of the campaign 0-0 at Genk a fortnight ago.
Soldado, who has been in impressive form for Valencia his season with five Primera Liga goals, understands that garnering three points against Andre Villas-Boas' side will be tough, but refuses to let go of optimism.
"We are obliged to win against Chelsea because a negative score makes our future in the Champions League very complicated," the 26-year-old told skysports.com.
"It will be a hard match, similar to that against Barcelona in La Liga (a 2-2 draw at home last week).
"The (1-0 away) defeat in La Liga to Sevilla (at the weekend) generated pain in the dressing room but that will not influence us on Wednesday. The Champions League is different - these are do or die games.
"Our objective in Europe is clear: to win three matches. Chelsea are the most difficult rivals in the group but each match is different and we will fight for every victory."
Mata's return
Against Chelsea, Soldado will be pitted against fellow Spain internationals Fernando Torres and Juan Mata, who will play against Valencia for the first time since leaving them for the Blues during the summer transfer window.
"The presence of Mata and Torres in the rival team signifies danger inside our penalty area and this obliges us to use a system to stop them," he explained. "But we must not forget the other Chelsea players.
"I am convinced that the Valencia fans will receive Juan Mata well. Juan is a friend but Valencia have much at stake in this match.
"Nobody doubts the quality of Fernando Torres but the strikers do not always find it easy. They need to be patient about him at Chelsea but I hope that this week he does not score against us.
"(Didier) Drogba is one of the strikers whom I admire because of his style, character and work rate on the pitch," added Soldado. "I will try to get his shirt after the match."
The other game in Group E on Wednesday is between Bayer Leverkusen and Genk in Germany.