Jags eyes attacking display
Phil Jagielka thinks Everton will revert to a more attacking approach against Liverpool after a defensive display last weekend.
Last Updated: 28/09/11 4:21pm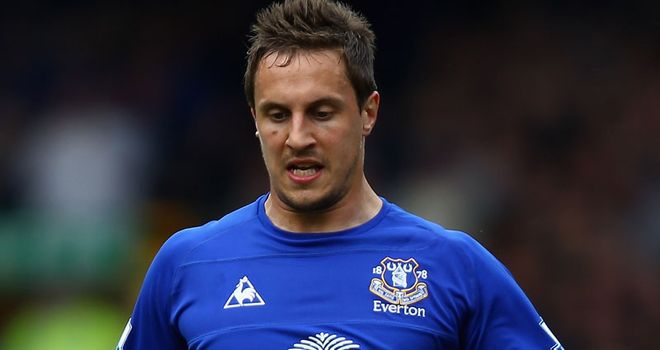 Phil Jagielka believes Everton will revert to a more attacking approach against Liverpool on Saturday after a defensive display against Manchester City last weekend.
The Toffees spent much of the game at the Etihad Stadium defending in an attempt to stifle City's glittering array of attacking players.
They lasted until the 68th minute before Mario Balotelli's deflected strike put City in front, with James Milner's 89th minute effort sealing the win for Roberto Mancini's men.
Merseyside rivals Liverpool arrive at Goodison Park on Saturday with Everton unbeaten in their last four home games and the Reds still smarting from a 4-0 defeat to Spurs in their last away league game.
Performance
With that in mind Jagielka insists the Toffees will go all out to win the derby - in contrast to their defensive mindset last time out - but is all too aware of the size of the task in front of them.
"At home we have been doing okay. We changed things around a little bit for the City game, so hopefully we can go back to the way we have been for the Liverpool game and put up a performance and try to get a win," the 29-year-old told the Liverpool Echo.
"It'll be nice to get back to that. It's still going to be hard against Liverpool, they've had a decent start to the season so we're not pretending we'll be up against a Liverpool that is struggling.
"They have brought in a lot of good players and a lot of good quality. As much as we say we are looking forward to the derby, we aren't expecting to automatically win it.
"But we will be trying our best to get three points, whereas against City it was more us looking for a draw and maybe nicking a goal."