Evra - We've been warned
Patrice Evra says Man Utd's stuttering form over the last couple of weeks has given the reigning champions a 'wake-up call'.
Last Updated: 30/09/11 7:30pm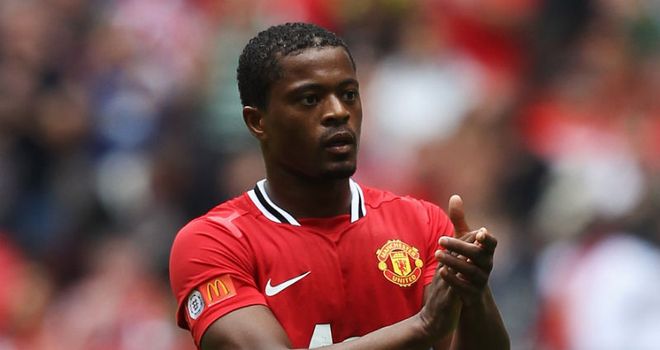 Defender Patrice Evra says Manchester United's stuttering form over the last couple of weeks has given the reigning champions a 'wake-up call'.
Sir Alex Ferguson's men have drawn three out of their last five games, most recently on Tuesday when they threw away a two-goal advantage against Basel in the UEFA Champions League and needed Ashley Young's last-minute header just to grab a point.
The recent results are a sharp contrast to United's sensational start to the campaign, when they destroyed Tottenham and Arsenal on successive weekends in August.
Lapses
Frenchman Evra, currently the Red Devils' captain in the continued absence of Nemanja Vidic, recognises the need to tighten up defensively after a series of lapses at the back.
But the defender does not feel it will take much to get back to the brutal football they produced early in the season.
"It is not difficult to get the balance right," he said.
"We have made the games look easy but every time we have played, even from the beginning of the season, it wasn't really like that.
"It looked that way because we worked hard. We were compact and everything about our shape was right.
"If we just go back to that we are going to resolve the problem. It is not a disaster. It's just a good warning and a wake-up call.
"We are beautiful when we make the game easy but we can be ugly if we don't make the effort and do what is required of us."
Evra has told his United team-mates they must ensure newly-promoted Norwich realise they have "no chance" from the first minute when they visit Old Trafford on Saturday.
With Norwich starting to find their feet on their return to the top flight, it has not entirely been discounted by the Canaries faithful that they could repeat their achievements of 1988 and 1989 when they beat Ferguson's men on their own patch.
Evra shudders at the thought of such a prospect and he wants United to prove it is not going to happen.
No chance
"We need to show from the start they have no chance," said Evra. "It's the Theatre of the Dreams, but it must be for us, not for the other team.
"We need to make things easy. If we score an early goal, we can kill the game.
"But if Norwich get to half-time and it's still level their confidence will be really high. They will think they have a chance and could win the game."