Long's 'meteoric' rise to fame
It is only the speed of Shane Long's development which has come as a surprise to West Brom manager Roy Hodgson.
Last Updated: 03/10/11 9:23am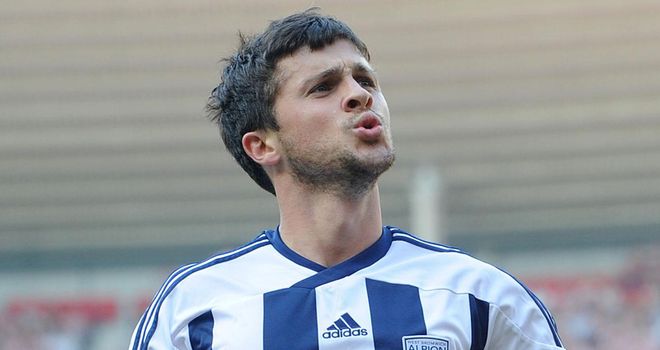 It is only the speed of Shane Long's development as a Premier League striker which has come as a surprise to West Brom manager Roy Hodgson.
The Republic of Ireland international moved from Reading in August in a reported £6.5million move and scored his third goal of the season in Saturday's 2-2 draw with Sunderland.
Long was tracked by a number of clubs before he joined West Brom and Hodgson thinks he may have completed the bargain buy of the summer.
The Baggies boss said: "I don't think we paid a lot for potential. The figures quoted are wrong, I am not saying how much it was but I have seen the quotes. He might be the bargain of the year as it turns out.
"He came from Ireland where he was playing hurling, then at 17 he went straight into Reading and became a star player within two or three years.
Flying start
"He got into the Irish national team and then into the Premier League, so it is a meteoric rise and we are talking about a young lad of 23/24 who started very late and is still to some extent learning the game.
"I am not at all surprised it has taken time for him to settle, in fact it has taken less time than I thought with what the Premier League is.
"He had a flying start with a goal against Manchester United and today his all-round play was very good, his target play was good and he was a threat in front and behind defender, rarely gave the ball away and of course his work rate is outstanding."
Long's form has decreased the pressure on last season's top scorer, Peter Odemwingie, who has suffered an injury-hit and goal-shy start to the campaign.
"I don't think Peter Odemwingie had one of his better days," continued Hodgson. "He is very harsh with himself and sets himself very high standards.
"But even playing like that he is dangerous but had he been anything like his normal self, with Long in the form he was in, I think we would have been even more dangerous than we were.
"I don't know which one will finish top scorer, I don't really mind. There are so many things I concern myself with and that's not one of them. I do know we will see a lot more of them, as the season develops."