Trap - Result all that counts
Giovanni Trapattoni plans to start with two strikers against Andorra in Ireland's Euro 2012 qualifier on Friday.
Last Updated: 03/10/11 4:36pm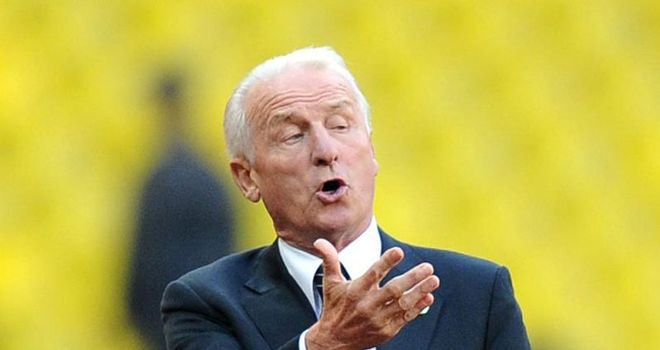 Giovanni Trapattoni plans to start with two strikers against Andorra and insists the result is all that matters for the Republic of Ireland in Friday's Euro 2012 qualifier.
Ireland are overwhelming favourites to beat Andorra away from home as Trapattoni's side try to pip Russia to top spot in Group B.
Andorra have yet to pick up a point in qualifying and their only goal in eight matches came through Christian Martinez's strike in the 3-1 defeat by Ireland in September last year.
However, Trapattoni is leaving nothing to chance as his side attempt to edge past leaders Russia as the qualifying campaign comes to a climax.
The Italian said: "The important thing is the result. It's not important how we get the result, but that we get the result.
"After 90 minutes, the ball stays and the show is over. The result stays.
"We look only for the result. We have to pay attention to every mistake, every silly mistake."
Doyle fit
Trapattoni will have Kevin Doyle at full fitness for the game after the Wolves forward was short of sharpness in last month's 0-0 draw in Russia and the Ireland coach will be positive against Andorra.
He said: "One month ago, he was not strong, but he looks well. He said to me, 'Now I am fit and well'.
"In Andorra, we can play with two strikers and we will have two strikers also on the bench. We will look to win.
"After maybe one hour, we can change it if we need the fresh energy. That is my thinking."
Victory over Andorra and a similar outcome when Armenia visit the Aviva Stadium next Tuesday evening may not be enough for Ireland to qualify automatically, with much resting on the clash between third-placed Slovakia and the Russians in Zilina on Friday.
A win for Slovakia would mean two victories would send the Republic to the finals, while a draw would leave Russia needing to beat Andorra at home in their concluding game to nudge Ireland aside by virtue of their head-to-head record.