Gower glad to be back in PL
Swansea City midfielder Mark Gower has expressed his relief at being able to play Premier League football again.
By Chris Galea
Last Updated: 04/10/11 11:45am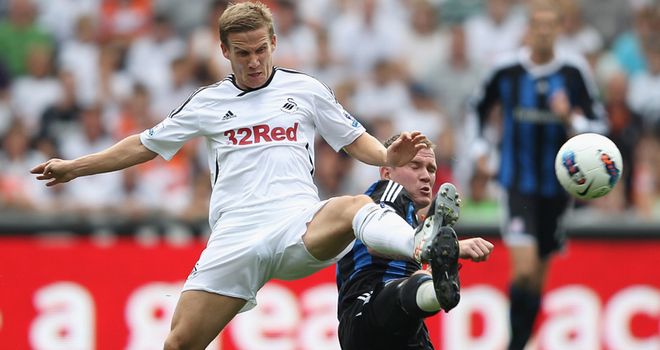 Swansea midfielder Mark Gower has expressed his relief at being able to play Premier League football again after dropping down the divisions during his career.
The former Southend United man came through the ranks at Tottenham Hotspur, but found himself playing non-league football after joining Barnet in search of regular first-team football.
However, following an impressive five-year spell with Southend, Gower joined Swansea in 2008 before helping the club win promotion to the top flight last season.
The 32-year-old believes that he is a much better player for the journey and is keen to make up for lost time this year.
Relief
"It was definitely a relief for me when we sealed promotion to the Premier League back in May because I endured some dark times playing in both League One and Two," Gower told skysports.com.
"It wasn't football as I knew it because I like to play the game how Swansea do, which is a passing game.
"Things have been great for me since I joined Swansea and I'm thankful for being back where I want to be.
"I've always believed that I was good enough to play at the highest level, but you do have doubts starting to creep in when you are playing non-league football.
"I've got a lot of friends in football and people around me who I consider my judges and they've always told me that I was good enough to play in the Premier League, which gives you heart.
"But, when you go from the best league in the world to where I was at Barnet, you do start doubting yourself a little.
"The fact that I'm back here now and that I've gone full circle to achieve it is a great feeling."
The London-born midfielder reveals that he even considered quitting the game altogether after slipping out of the Football League.
He added: "You do start wondering when you find yourself there, but I've always believed in my ability.
"When I was playing at that level I thought it was for a reason and I did question myself because If I was that good then why did I end up there?
"There have been better players than me that have fallen out of the game for one reason or another.
"All I've ever wanted to do is play football and it's the only thing I can do, so I was lucky to have good breaks to counter the bad ones."