Bender gets all-clear
Accrington defender Tom Bender has been given the all-clear following a brain scan after being knocked unconscious against Tranmere.
Last Updated: 04/10/11 11:12pm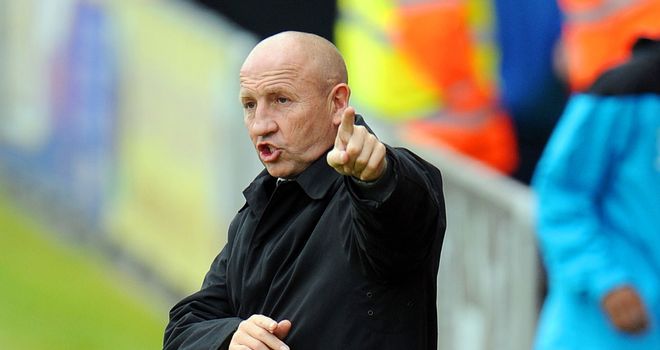 Accrington defender Tom Bender has been given the all-clear following a brain scan after being knocked unconscious in their abandoned Johnstone's Paint Trophy match with Tranmere.
The on-loan Colchester man took a full blow in the face from Ian Dunbavin as the goalkeeper came out to clear a ball into the box in the 38th minute.
The 18-year-old was knocked out and needed half an hour of treatment on the pitch, including oxygen and a drip, before the ambulance took him to Blackburn Hospital, where he is in a stable condition with concussion.
"Tom is now fully conscious," Stanley chief executive Rob Heys said after visiting the player in hospital. "He has been for a scan which has come back as normal.
"He is severely concussed and is being kept in overnight for medical staff to keep an eye on him, but he's stable and that's great news."
Double the force
Accrington manager John Coleman earlier said: "Their striker was trying to get the ball. He was eager and it led to Tom's momentum going onto a full-blooded punch from Bavs.
"It was like double the force and the fact Tom didn't move when he hit the floor is a concern. The lads immediately knew something was wrong and waved the physio over straight away.
"The physio admitted it was scary. They didn't want to move Tom and we just had to wait for the ambulance to arrive, which obviously took some time.
"His dad was here watching and he has gone to hospital with Tom so he is close at hand.
"He is now in the safest hands and we've just got to hope and pray everything is OK."
Coleman admitted nothing like this had happened to him in his 14 years of football management.
He said: "I feel sick and am obviously concerned for the lad and his family but his vital signs, we are led to believe, are OK.
"Hopefully he will make a recovery. He hadn't come round but his breathing was stable."
Represented
Bender joined Accrington last month on a season-long loan deal and made his debut as a substitute against Barnet, on September 3. His first career start came in a 3-2 defeat of Carlisle in the Johnstone's Paint Trophy the following day.
He has also represented Wales at Under-17, Under-19 and Under-21 level - coming on as a substitute in the latter's match against Hungary last month.
Both managers agreed referee Rob Lewis was right to call the contest off, with Tranmere leading 2-1 at the time of the incident.
Coleman added: "I am glad the game is off as I think a few of the players, including the goalkeeper, wouldn't have been in the right frame of mind to go on."
Tranmere boss Les Parry added: "It's a game of football and when someone's health is involved that's got to take precedence."
Stanley had taken the lead in the ninth minute when Kevin McIntyre's cross was turned into his own goal by Zoumana Bakayogo but Tranmere hit back to lead with goals from Ash Taylor (20) and Mustafa Tirkyaka (35), before play was halted.