Bannan excited at qualifiers
Barry Bannan is excited about Scotland's upcoming Euro 2012 qualifiers against Liechtenstein and Spain.
Last Updated: 05/10/11 8:43pm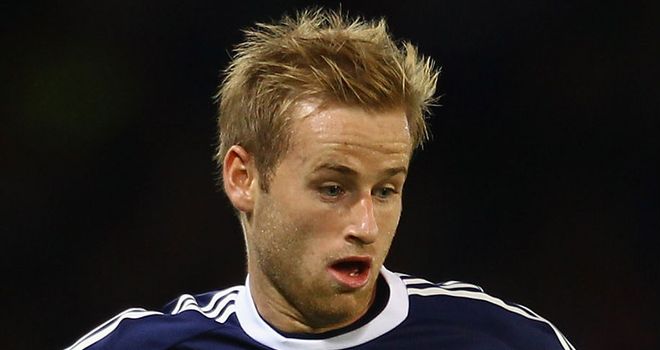 Scotland international midfielder Barry Bannan is excited about the nation's upcoming Euro 2012 qualifiers against Liechtenstein and Spain.
Bannan has joined Craig Levein's squad full of confidence after his man-of-the-match display against Lithuania sparked a run in the Aston Villa first team.
The diminutive 21-year-old has thanked Levein for his part in helping him play for Aston Villa and he believes playing week-in, week-out for his club will improve his international displays.
Fitness
"The last game we got a great victory and went away with our clubs and have played more games so we will be a bit fitter," explained Bannan.
"Playing with your club and getting more games, you are going to be improving every week.
"I have to say a big thank you to the gaffer here because my last game for Scotland against Lithuania played a big part in me getting back in with my club team."
Confidence
Bannan does not feel any increased burden ahead of the final two qualifiers because of his crucial contribution against Lithuania.
The youngster capped his impressive display with the ball that set up the only goal of the game for Steven Naismith as Scotland kept alive their play-off hopes.
"I wouldn't say added pressure, it just helps your confidence build," he continued.
"If you're confident going into games, probably nine times out of 10 you will do well.
"I'm really confident now because I'm playing games and just looking forward to every game that comes around."
"If I don't start in any of the games, I'm not going to cry. Obviously I would be angry and disappointed inside, who wouldn't be?
"But I will react in the right way and if need be I'll be ready to play."