Cabaye improving at Newcastle
Newcastle midfielder Yohan Cabaye believes he has gone from strength to strength since arriving in the Premier League over the summer.
By Patrick Haond
Last Updated: 07/10/11 1:32pm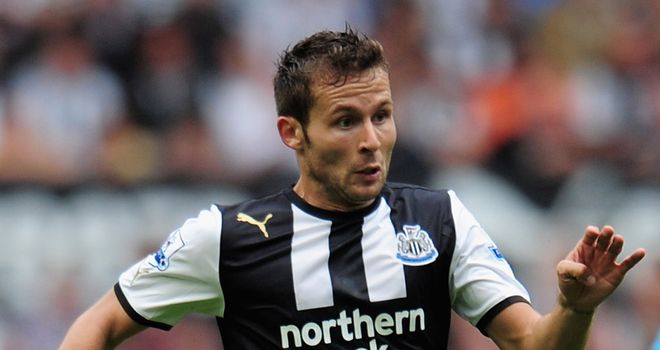 Yohan Cabaye believes he has gone from strength to strength since arriving in the Premier League and credits his move to Newcastle for helping his international career.
Cabaye helped Lille win the Ligue 1 title in France last season but gave up the chance to play in the UEFA Champions League as he had always wanted to test himself in English football.
He admits the different style of game he encountered at St James' Park came as a shock to the system, but he is now reaping the rewards.
The 25-year-old has impressed in the heart of midfield to help the Magpies remain unbeaten so far this term, and he has also started to establish himself in the France side.
Having previously never been a regular, Cabaye was picked to start last month's Euro 2012 qualifier against Romania ahead of Samir Nasri and is in the squad for the upcoming matches against Albania and Bosnia-Herzegovina.
And Cabaye is in no doubt that joining Newcastle is the reason behind his sudden rise to prominence.
"Now people look at me as a player who plays in England," he told L'Equipe.
"The opinion I have on my own game has also changed. After just two months of competition, I believe I have improved, notably to repeat efforts and remain focused for 90 minutes.
"There is no rest in a match. You must always, always, always remain focused.
Proving his worth
"In French people's minds, everyone thought: 'Why does he go to Newcastle. The French team is over for him'.
"I think people thought if I stayed at Lille I was sure to be called again.
"By leaving, I was forced to start again from scratch. At Newcastle, some players didn't even know I was a champion in France.
"So you are forced to give your very best right from the start to prove your worth."
Cabaye is happy with how he is adapting to life in the Premier League and recognises that having to work harder on the pitch has helped his fitness, although he hopes to keep improving.
"For the first match against Arsenal I didn't have a lot of legs. Then, there was the League Cup match against Scunthorpe. Even if it was a League One team, it was very good for me to play 120 minutes.
"In France I tried to do as few mistakes as possible, but in England you don't care! On a physical impact level, I probably have to go on improving."