No approaches for Gosling
Dan Gosling's agent his dismissed rumours he is to go out on loan and challenged him to force his way into the Newcastle side
Last Updated: 08/10/11 8:58am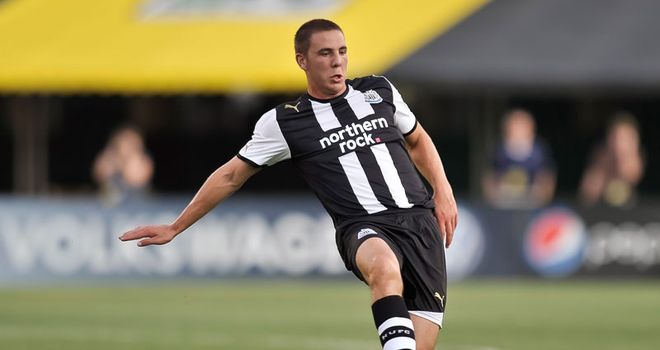 Dan Gosling's agent his dismissed rumours that the midfielder is set to go out on loan and has challenged him to force his way into the Newcastle side.
The former Plymouth youngster is yet to start a game for the Magpies since signing from Everton still nursing a serious knee injury in July 2010.
The 21-year-old has only made one league appearance this season and rumours emerged this week that Doncaster were set to sign him on loan in order to improve his match fitness.
However, his agent, David Hodgson, says no such move is imminent and has instead challenged his client to win over Newcastle boss Alan Pardew and earn a first-team recall at St James' Park.
"Dan is a Newcastle United player and if they say they want him to go out on loan then he will go out on loan - but no-one has come to Dan or to me with that suggestion yet so it sounds like speculation," Hodgson told the Newcastle Evening Chronicle.
Outstanding
"I have advised Dan since he was at Plymouth as a teenager and my advice to him is that he remains at Newcastle.
"He's got a very big challenge on his hands at Newcastle, no question about that. And the biggest challenge is to win the manager over.
"It is a very big challenge; I think we both know that. Alan Pardew has signed two or three players in Dan's position so he does have a battle, but if he came to me I would say that the best place to win the manager over is actually at St James' Park.
Hodgson also dismissed suggestions that Gosling had not fully recovered from his knee injury, but acknowledged that it would take time for him to reach peak fitness again after such a long lay-off.
"His fitness is absolutely fine," added Hodgson. "Dan is a natural athlete and his character is outstanding, so he will keep working away.
"But it is a long road back when you have been out for 18 months and he just needs to work on that."