Rummenigge cools Robben row
Karl-Heinz Rummenigge has claimed a "misunderstanding" with Holland following Arjen Robben's latest injury.
Last Updated: 09/10/11 8:30pm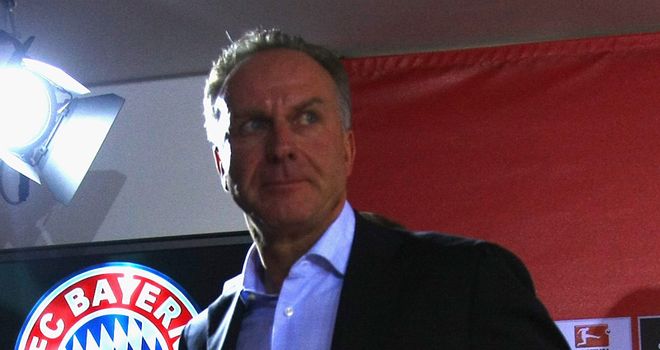 Bayern Munich chairman Karl-Heinz Rummenigge has claimed that a "misunderstanding" prompted Bert van Marwijk's attack on the club over Arjen Robben's latest injury.
Van Marwijk launched a tirade against the Bundesliga outfit after Holland's Euro 2012 qualifying win over Moldova in Rotterdam on Friday.
Robben, who had been sidelined earlier this season, met up with the Oranje squad ahead of that match, but pulled out earlier this week and underwent an operation on his pubic bone on Friday.
The surgery was carried out under the supervision of Bayern's club doctor, Hans-Wilhelm Muller-Wohlfahrt, who claimed that Robben's injury "had developed over the last few days" - while he had been on national team duty.
But Van Marwijk told reporters at a press conference that the Oranje were not to blame.
"I have had enough of Bayern. I am incensed by them," he said.
"They want to blame Arjen's inguinal hernia on us rather than being grateful that we put him through a thorough examination."
Misunderstood
Rummenigge has responded in a statement on Bayern's official website, saying: "Bert van Marwijk clearly must have misunderstood something. Bayern have neither made accusations against him nor the Holland national team.
"On the contrary. We find it very accommodating that the Dutch have in this situation sent Arjen back to Munich and therefore have given him the opportunity to recover from the injury as quickly as possible.
"We hope that Arjen Robben can train and play again as soon as possible."
Van Marwijk could not hide his frustration with Bayern, as he insisted that it was in fact the Dutch team doctors who had discovered the true source of Robben's recent ailments after they put the forward through tests over the weekend.
"When Arjen reported for national team duty, he told me that he was not really fit," Van Marwijk said.
"He told us that he had had to warm-up for an hour sometimes with pain at Bayern."
Dutch team doctor Gert-Jan Goudswaart performed a thorough examination on the 27-year-old and, according to Marwijk, he "doubted" Bayern's diagnosis.
Bayern had put the injury down to a pubic bone inflammation.
Very cautious
"We are very cautious with Robben and that is why our doctor intentionally requested a further examination with a very well known radiologist," added Van Marwijk.
"It was therefore no surprise when the inguinal hernia was discovered.
"Goudswaart was in constant contact with Muller-Wohlfahrt."
A previous dispute between Bayern and the Dutch Football Association about Robben's treatment at the World Cup ended in an agreement that a friendly match would be staged between the two sides, with Bayern keeping all proceeds as a form of compensation for the injury.
However, Van Marwijk has no intention of leading his side out at the Allianz Arena.
"I have had enough of them," he said. "All of a sudden they blame us and it makes me crazy - it's almost anti-social.
"I don't think it is normal. I am going to have to sleep on it. Who knows? Maybe we will play that friendly match, but I really don't want to now."