Cox and Long vying for spot
West Brom team-mates Simon Cox and Shane Long look set to battle it out to replace Republic of Ireland captain Robbie Keane.
Last Updated: 10/10/11 10:27am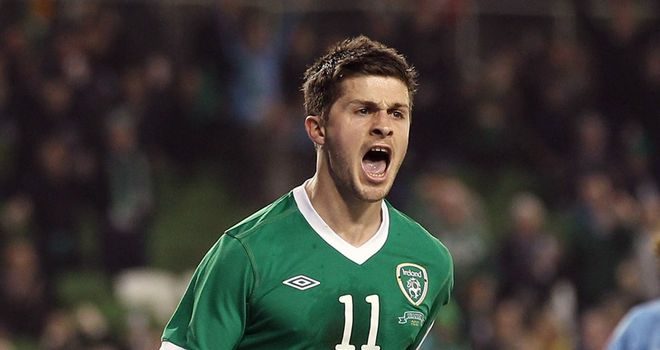 West Brom team-mates Simon Cox and Shane Long look set to battle it out to replace Republic of Ireland captain Robbie Keane.
Keane is a major doubt for the midweek Euro 2012 showdown with Armenia due to an adductor muscle injury.
With Kevin Doyle certain to start, Long and Cox are next in line for Giovanni Trapattoni along with Stoke's Jonathan Walters.
"We haven't really spoken about it. When the boss will decide, probably, who gets the shirt, the other lads - myself, Shane, Jon Walters - will turn around and say 'well done' if it's somebody else, and 'have a good game'," said Cox.
"We will just be very pleased for the person who has got the shirt, but a bit disappointed you haven't got it. But it will be a very strong team when game day comes."
Cox and Long are also vying for a starting berth at West Brom, with the latter having made a fine start to his career in the Premier League following a 4.5million summer move from Reading.
Former Swindon frontman Cox has himself enjoyed a meteoric rise on the international stage, but he has been hugely impressed with how quickly Long has started to repay the faith and money invested in him by manager Roy Hodgson.
The 23-year-old said: "He's done wonders for us. There was probably a little bit of pressure put on his shoulders with the price tag that we paid for him.
"But I have seen that the manager has said that however much it was 4.5million, 5.5million, whatever it was - it was probably one of the bargains of the window, and I would agree with the way he has started.
"He has come in and done really well, scored his goals, which is what he has been brought in to do, and he looks a very good buy at the
Decision
Trapattoni is likely to announce his decision on Tuesday after making a final check on Keane, and despite his confidence in the rest of his strikers, there is little doubt that if he has to discount the country's 51-goal leading scorer, he will do so with a heavy heart.
Cox said: "He's one of those players who has been there, seen in, done it numerous times, and we can only aspire to the way he has gone about his business.
"He's a top pro, he does things day in, day out very well, he trains hard and even around the hotel, he talks to you and asks you how you are settling in.
"He's just an all-round nice guy and top pro.
"It will be a massive blow if he doesn't make it, it would just be a big loss for us.
"But if he doesn't make it, whoever comes in in his place will be well-equipped to handle the situation."
Armenia will arrive in Dublin having blasted their way into contention with a three-game winning streak secured by an 11-goal salvo, although Cox and his team-mates are determined to dash their hopes.
He said: "We are looking to go out and win the game and that's all we are thinking about."