Craddock relaxed over future
Veteran Wolves defender Jody Craddock has revealed he considers this season to be a 'bonus year' in his footballing career.
Last Updated: 10/10/11 1:08pm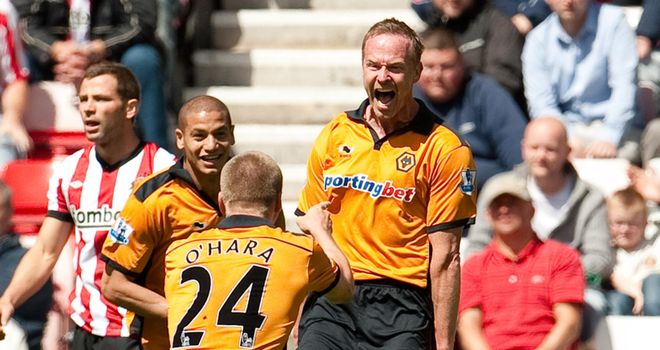 Veteran Wolves defender Jody Craddock has revealed he considers this season to be a 'bonus year' in his footballing career, as he knows that even if his contract is not renewed at the end of the campaign he has a future in the art world.
Craddock's current deal expires next summer, by which time he will be 37 and have had almost two decades in the senior game.
He understands that he will not be able to continue forever but has no worries about the prospect of Wolves deciding to let him go as he is grateful for being able to play on this long.
"This season is a bonus, so was last season and so was the one before that," Craddock told the Birmingham Mail.
"They've all been bonus seasons. A few years ago I was thinking about trying to squeeze my career out to 35 because that's when footballers collect their 'pension'.
"I'm 36 now and my contract will take me to 37. I see all these as bonus years, which is fantastic."
Craddock hopes to be in contention to make his comeback from a hamstring injury against West Brom this weekend, having not yet played in the Premier League this season.
But he maintains that it would not be a major problem if he has to wait a little longer for a recall, as he has grown accustomed to being patient.
"I am quite laid back about it now. It doesn't stress me out," he explained. "All I am going to do is continue with my work and just make sure that I am ready and try and stay injury-free.
"At the moment I am feeling so good. I feel fit, I feel strong. It is frustrating when you pick up injuries, but you get past those points and now I just want to stay right - that's all I can do.
"And if I go into the team at some point and perform well - then great."
Happy
Another reason for Craddock's relaxed approach to life after football is that his talent for art will allow him to explore a completely different path when he does hang up his boots.
Craddock, whose latest collection of paintings, 'Bruises to Brushes', opened at St Paul's Gallery in Birmingham last week, will retire from football when he is released by Wolves.
"My art has definitely taken the edge off things," he said.
"I'll be 37 by the time this season is over and to be honest I don't feel I have to drop down the leagues - I just don't feel I need to do it.
"I'm happy where I live and there aren't many clubs too close by. I'm at an age now where I'm not prepared to travel. Wolves is the perfect place for me.
"If I didn't have the art behind me then it might be a different case altogether. I might look at coaching.
"But it's relaxing knowing that I can make the art a full-time career when my football finishes. And management is too much hard work. I see the hours they put in.
"I just couldn't do it. And I've got a family. I want to spend the summer holidays with my kids, I want to spend Christmas with them."