Cox hails heroes
Simon Cox hailed the Republic of Ireland as 'heroes' after they secured their place in the Euro 2012 play-offs.
Last Updated: 11/10/11 10:12pm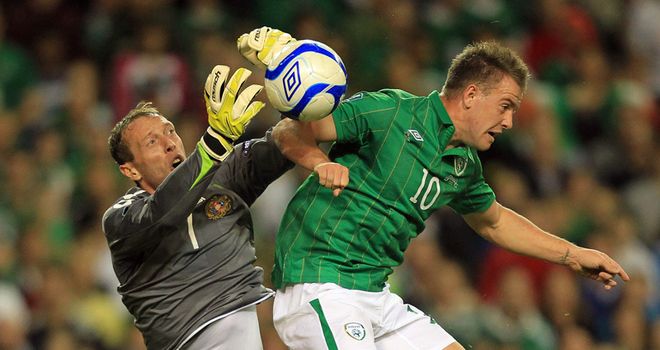 Simon Cox hailed his Republic of Ireland team-mates as "heroes" after they secured their place in the Euro 2012 play-offs by beating Armenia.
Giovanni Trapattoni's side won 2-1 in Dublin to finish second in Group B and put their name in Thursday's draw for the November play-offs.
Cox believes Ireland had to dig deep to secure victory in a game in which both sides finished with 10 men - and he will take whatever comes in the draw on Thursday.
He told Sky Sports HD 1: "It's an unbelievable night for Irish football. We needed to get six points out of six (from the last two qualifiers), and we got them and gave ourselves the best possible chance.
Luck
"We've got what we wanted in the end, which is a play-off place. It is the luck of the draw now and we'll take whatever comes.
"We came out with the biggest mentality that we could find and we played like heroes tonight, and we got the right result and the result we needed."
Almost two years ago, the Republic's World Cup dreams were ended by France who had a large slice of good fortune thanks to Thierry Henry's now infamous handball.
That hurt has festered ever since but Cox insisted past failures will not be on their mind ahead of Thursday's draw.
He added: "We showed tonight we can play as well as anybody and, as I said, it'll be luck of the draw who we get, and we'll take them.
"We'll go full steam ahead into the game and we probably won't even think about France or any other play-off defeat that we've had."