McLeish wary of City depth
Alex McLeish does not believe the Carlos Tevez saga will give Aston Villa any advantage against Man City.
Last Updated: 14/10/11 3:16pm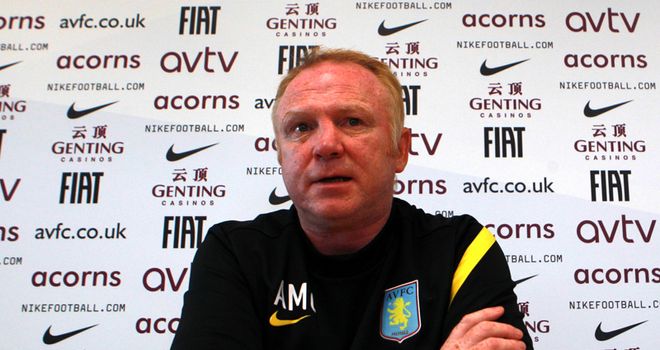 Alex McLeish does not believe the Carlos Tevez saga will give his Aston Villa side any advantage in Saturday's trip to Manchester City.
The Scottish boss also pinpointed David Silva as City's dangerman after watching the Spanish playmaker torment his compatriots in Alicante on Tuesday night.
Tevez has returned to training at City after a fortnight's suspension for allegedly refusing to play against Bayern Munich.
The club are yet to confirm if the Argentinian striker will come back into first-team contention but McLeish reckons the City squad has the professionalism and the quality to cope.
"I don't think the Tevez situation will affect the mindset of the City players," he said. "I don't think it would bother the players too much.
"They get on with it because I know in my time as a player that, when managers and players left, the media would say 'it's the end of the world'.
"After about a week or two, after reading all the hype, then you just get on with it. As a player you are only really looking after yourself and making sure you are ready and prepared for any game coming up.
Fantastic replacements
"I wouldn't expect Tevez to be in the squad but I'm not going to lose any sleep over it because we know they've got fantastic replacements," McLeish added.
"We know whatever side City put out that they have a very strong team and on paper they should be too strong for most teams in the Premier League.
"We saw that from Silva's performance the other night for Spain and they can even play him up front.
"He is a quality player, he is fantastic, and he's settled in at Manchester City really well after a sticky start.
"I remember Roberto Mancini talking about him, saying it takes foreign players that bit longer to adapt, but you can be sure he has adapted well and he did great for Spain the other night."
Silva scored twice in Spain's 3-1 win after a fine start to the season with City, while Gabriel Agbonlahor has been Villa's star man so far, scoring four goals in seven Premier League games.
Great application
McLeish has been impressed with the striker's resurgence after struggling under Gerard Houllier, and he is set to remain in the Villa side after overcoming a back problem.
"First and foremost, I think we gave him the opportunity to play," said McLeish.
"Gabby showed some great application from day one at the training ground. I like to see them train the way they play on a Saturday and Gabby right away impressed.
"The other side of it was how best to integrate him with Darren Bent. I am not saying they are the finished article but we have to keep improving and building on it. It has been very promising and Gabby was electrifying at times in the Wigan game."