Hargreaves may make league bow
Owen Hargreaves could make his league debut for Man City on Saturday as Roberto Mancini tests his squad depth.
Last Updated: 14/10/11 4:36pm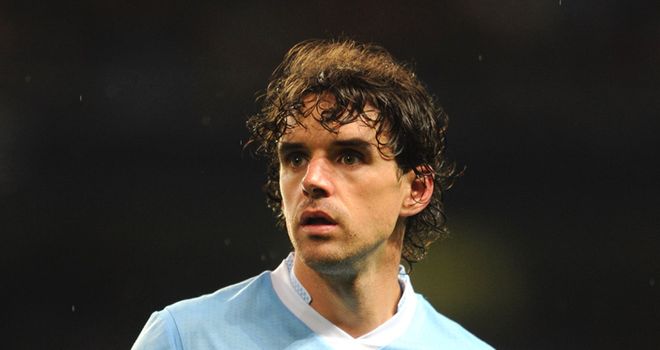 Owen Hargreaves could make his Premier League debut for Manchester City against Aston Villa as Roberto Mancini examines the depth of his squad.
City face a testing eight days with Saturday's game followed by a crucial Champions League match at home to Villarreal and then the Manchester derby.
Several members of the City squad only returned from international duty on Thursday so Blues boss Mancini is concerned about fatigue and expects fringe players like Hargreaves to step forward.
The 30-year-old midfielder is bidding to resurrect his career after three injury-ravaged years at Man United and made a goalscoring debut in last month's Carling Cup win over Birmingham.
The England international played 57 minutes in what was his first competitive game for 10 months and having continued to work on his fitness, he could feature against Villa.
"Hargreaves is ready to play. Maybe not one (full) game but he is ready," said Mancini.
Tiredness
"We don't have any players injured but we have four or five players very tired. For Aston Villa we will put off some players that are more tired, they will probably stay at home.
"It is important to have a team of players who are ready to fight in every moment."
Sergio Aguero will not be risked despite making a good recovery from the groin injury suffered against Blackburn last time out.
Fellow striker Mario Balotelli has overcome a back problem and is set to play while Carlos Tevez is highly unlikely to feature as disciplinary proceedings continue.
Mancini knows it is crucial for Aguero to regain full fitness as soon as possible while keeping his fingers crossed that no more of his players pick up any kind of injury over the coming weeks.
Important month
"It is important at the moment to have all the players because we play every three days for one month until the next international break," said the City boss.
"It is also very important to have all the players because I can change every game."
City are joint top of the table after a flying start to the season but Villa are unbeaten as they travel to the Etihad Stadium.
"It will be very hard," Mancini added. "They are good team, they have not lost any games.
"It is important we finish the game with a victory but it will be very hard and we need to play very well.
"I think Alex (McLeish) is a good manager. He knows the Barclays Premier League very well and he has more experience."