Monk amazed by progress
Swansea City captain Garry Monk is still pinching himself that he is a Premier League player this season.
Last Updated: 15/10/11 2:04pm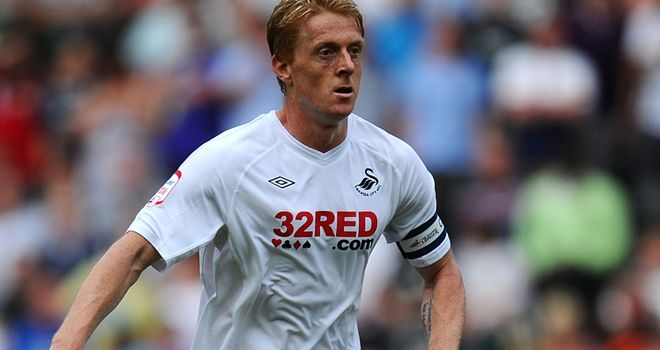 Swansea City captain Garry Monk is still pinching himself that he is a Premier League player this season.
Monk has been with the club through the worst of times having spent no less than eight seasons with the Welsh outfit.
Less than ten years ago the club saved themselves from being relegated to non-league football on the final day of the season.
The Swans have gone from strength to strength in recent seasons having moved to the Liberty Stadium and Monk can barely believe it.
The 32-year-old is one of three Swansea players, along with Alan Tate and Leon Britton, to have completed the journey together and he thinks it is 'surreal' to have gone from playing Yeovil in league action to going head-to-head with the likes of Manchester City and co.
Achievement
"I don't think anybody could have envisaged what we have achieved," explained Monk in the Daily Star. "To be fair, I knew that the club would go forward when I joined.
"What's now the Liberty Stadium was a shell, a building site with all the steelwork in place, so you could see the ambition to move on.
"I knew with the other players that were being signed we wouldn't stay in the bottom division too long. I didn't want to come back down to that level, but in the end it's been the best thing I ever did.
"To find myself now as a Premier League captain feels great. If I'm honest, my first thought when we won the play-off was whether I would get the chance to lead out the team, especially because I have done it in every division and for me and my family it was a very proud moment.
"I've seen it all. Times when, with all due respect, we've been at Rochdale or Scunthorpe on a Tuesday night and I feel like I have done it the hard way and learned my trade.
Evolution
"There are three of us that have gone the whole way with the club - myself, Alan Tate and Leon Britton.
"We've basically seen the club evolve from being on its knees to what it is now and I think we are all proud, and why shouldn't we be?
"It's funny, we played Manchester City and I was talking to Leon and Tatey and saying, 'Our big game used to be Yeovil away'.
"If you got something from there, it was a really good result. Now we are playing Man City with all the money they have. It's a bit surreal.
"But I'd like to think we have all got here because we have improved as players as well as the club moving on."