McDermott - Tabb is okay
Reading boss Brian McDermott admitted he was relishing telling Jay Tabb the good news after Jem Karacan's minute winner against Burnley.
Last Updated: 15/10/11 7:11pm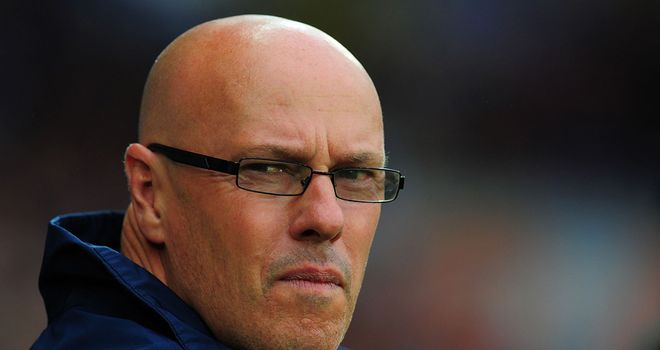 Reading manager Brian McDermott admitted he was relishing telling Jay Tabb the good news after Jem Karacan's 99th minute winner against Burnley, which devastated Eddie Howe.
Tabb was knocked unconscious with 20 minutes to go and after a lengthy break in play and the former Brentford midfielder was taken to hospital.
Play finally resumed and both sides seemed to be heading for a point in a drab goalless draw until Turkey Under 21 international Karacan converted Mathieu Manset's pass and hand the visitors all three points in injury time.
McDermott believes his side were worthy winners but admitted he would have preferred a bit of breathing space.
"Jay Tabb was unconscious for 30 seconds on the pitch and then came round and has gone to hospital, but Luke Anthony, our physio, has said he's OK," said McDermott.
"We'll let him know the result and I'm sure he'll be very pleased.
Right direction
"I thought we kept going and were trying to win the game. That's the nature of the players that we have here.
"We've done that a couple of times over the last couple of years. That's the first time I've won a game in the 99th minute though.
"The best way to win is to be 4-0 up and you can relax but it's a nice way to win when you come to a place like this where Eddie has got his team going in the right direction.
"You keep going and you keep trying to win it, try to get a break, and if you get a break you take your chance. I felt that we probably edged the game and probably deserved to win it."
Burnley began the game on the back of two straight wins, including the 5-1 thumping of Nottingham Forest, but against Reading they were lacklustre in front of goal with Jay Rodriguez and Chris McCann restricted to pot-shots from distance.
Clarets boss Howe said: "We didn't play well. We never really got going and looked a little flat for whatever reason.
"When we got into injury time we thought, having not played well at home, we'll take the point. It was a real sickener to concede at the death."