De Jong hails Mario improvement
Nigel de Jong believes temperamental team-mate Mario Balotelli is beginning to realise his responsibilities as a Man City player.
Last Updated: 16/10/11 4:08pm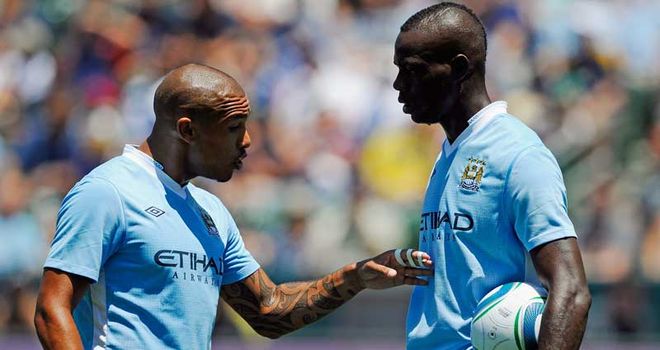 Nigel de Jong believes temperamental team-mate Mario Balotelli is beginning to realise his responsibilities as a Manchester City player.
The controversial striker starred for City against Aston Villa on Saturday, providing the inspiration for a convincing 4-1 win which fired them to the top of the Premier League.
It was a timely contribution from the 21-year-old ahead of the resumption of City's stuttering UEFA Champions League campaign in midweek.
And De Jong believes Balotelli is finally settling down following a turbulent start to life in Manchester.
Getting it
The Dutchman told City TV: "I think he is getting it now, why we always try to teach him a lesson. He is getting it slowly but surely.
"You have to give him credit for the last couple of weeks, not just on the pitch but in the training sessions.
"He is behaving quite normal for him. Everyone is happy to be with him.
"Nobody ever doubted his qualities but with great qualities you need to have big responsibilities as well - not only on the pitch but outside as well.
"I think he showed that to the group and Manchester City as well in the last couple of weeks."
Balotelli took advantage of Mancini's decision to leave Edin Dzeko, David Silva and Samir Nasri on the bench and not to risk Sergio Aguero after injury as he provided much of City's attacking thrust.
After testing Shay Given, he gave City the lead with a sharp overhead kick and continued to bother previously unbeaten Villa throughout, bringing another fine save from the keeper in the second half.
On the downside there were occasional displays of frustration and an apparent collision with Given, but the biggest disappointment for City is that he is suspended for this week's Villarreal encounter.
After beginning their European programme with a draw against Napoli and that infamous 2-0 loss at Bayern Munich in which Carlos Tevez allegedly refused to play, City need to beat the Spaniards to kickstart their campaign.
Massive
De Jong added: "They are two massive games (this week). The Champions League is the first one and it is obvious we have to win that game to proceed to the next stage.
"After that is the Manchester United game, which will be a massive game, number one and number two against each other.
"We just have to prepare ourselves very well and focus again now."