Taylor to act as peacemaker
PFA chief executive Gordon Taylor has offered to act as a mediator in the Luis Suarez-Patrice Evra race row.
Last Updated: 17/10/11 4:34pm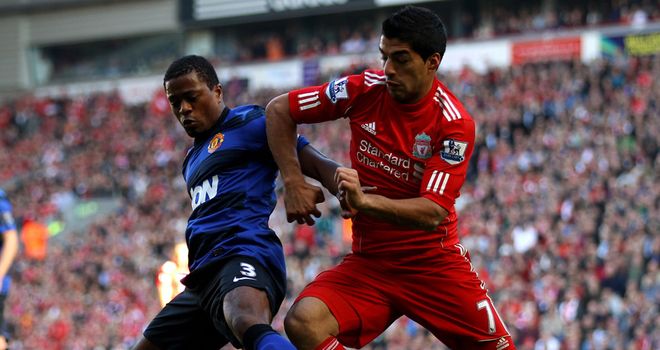 Professional Footballers' Association chief executive Gordon Taylor has offered to act as a mediator in the Luis Suarez-Patrice Evra race row.
Manchester United full-back Evra has accused Liverpool striker Suarez of racially abusing him during a 1-1 draw between the Premier League giants at Anfield on Saturday.
The Football Association is to investigate the matter, with Evra having lodged a complaint.
Suarez claimed on Sunday to have been left 'upset' by the allegations, which he categorically denies.
Speaking at the Professional Players Federation (PPF) annual conference on Monday, Taylor said he would be prepared to mediate between the players if necessary.
He said: "It's something we've done in the past and it's something I hope we'll be asked to do in the future.
"We need to try to cool down and reflect on what happened and to contact the FA and see what form their inquiry will take.
Serious issue
"It's good to get this put behind us as quickly as possible instead of letting these things fester and become blown up again."
He added: "It's very disappointing to have two of our players from different countries at odds over a very serious issue.
"Only by having a full inquiry on such matters can we get to the bottom of it and try to make sure that such problems don't arise again in the future."
Kick It Out chairman Lord Herman Ouseley believes any footballer guilty of racism must face 'severe action' from both the Football Association and the club they represent, but has stressed that 'you would have to be able to prove it beyond reasonable doubt'.
The head of football's equality and inclusion campaign said in a statement: "There were incidents in the second half (of Saturday's match) and Evra seemed to get very agitated so something was obviously bugging him because he was quite incensed.
"But if this happened he should have brought it to the attention of the referee at the time.
"No doubt the FA will take the matter seriously and consider the complaint fully in order for them to take appropriate action."