Rosicky - I knew it was in
Tomas Rosicky has defended himself after not watching Sebastian Larsson's free-kick fly into the Arsenal goal.
Last Updated: 17/10/11 4:46pm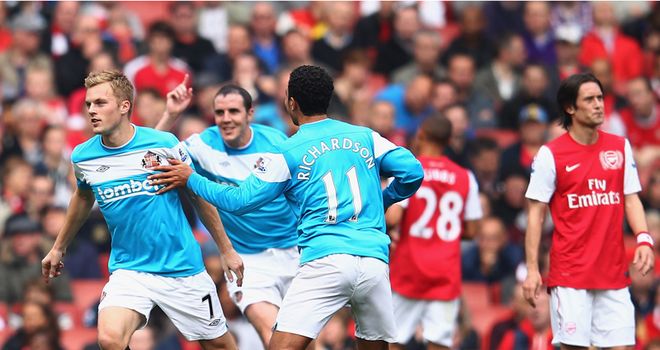 Tomas Rosicky has defended his actions after being criticised for not watching Sebastian Larsson's free-kick fly into the Arsenal goal.
Sunderland midfielder Larsson struck a beauty from the edge of the area to equalise for Sunderland in Sunday's clash at the Emirates before Robin van Persie doubled his match tally to win the game for Arsenal.
Some Gunners fans were unhappy that Rosicky began walking towards the halfway line to restart the game before Wojciech Szczesny had a chance to save the free-kick.
The Czech Republic international was stood to the left of the wall and fans even claimed that he laughed as soon as the free-kick was taken.
But he explained: "That wasn't a laugh - it was a desperate laugh that such a screamer would be scored again. I don't have to turn around.
Unbelievable
"When I see his face and he is celebrating, why should I turn around? I have been here six years and anyone who thinks I would laugh at that, for people to take it that way is frankly unbelievable."
The win moved Arsene Wenger's side up to 10th in the Premier League table but they had Van Persie to thank for scoring his seventh goal of the season.
They have tough games against Stoke City and Chelsea coming up in the next fortnight but Rosicky is confident that they can still achieve their goal of securing UEFA Champions League football.
He said: "It was a very difficult start for us but the season is very long and I don't feel it is impossible for us (to finish in the top four).
"Every game is very difficult and you have to fight hard. The season is long and there are so many points to play for. Arsenal is a great club that always has to play for the top four. Even if we started badly, it must still be our aim."