Larsson - Bendtner will deliver
Sebastian Larsson is backing Nicklas Bendtner to kick-start Sunderland's season on his return the starting line-up this weekend.
Last Updated: 19/10/11 1:33pm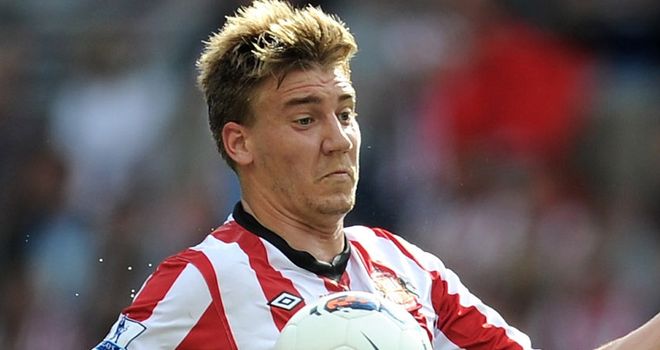 Sebastian Larsson is backing his former Arsenal team-mate Nicklas Bendtner to kick-start Sunderland's season on his return to the starting line-up at Bolton on Saturday.
Bendtner was forced to sit out Sunday's 2-1 defeat at Arsenal as the terms of his loan prevented him from facing his parent club but he is expected to start as a lone striker against Bolton.
The Denmark international has impressed at his new club with a goal and an assist in the 2-2 draw with West Brom earlier this month and the 23-year-old is set to play a pivotal role in Steve Bruce's attacking play.
Larsson was part of the Arsenal first-team squad as Bendtner was progressing through the North London club's youth set-up and he is tipping a more matured player to deliver for Sunderland.
Matured
"Nicklas was there at Arsenal, but was younger than me, he has learned what he is best at and has been brilliant since he came to us," Larsson told The Northern Echo.
"He is always a confident lad, and has the ability to back it up as well. He has confidence in a good way. He is one of the lads. He is not shy and, as soon as he came in, he was joking with the lads. He was just one of the lads straight away.
"He is not afraid to say his opinion and he thinks he is a good player - I agree with him," he added.
Larsson's superb first-half free kick in the defeat at the Emirates threatened an upset but the 26-year-old admits Sunderland must supply Bendtner with quality service if he is to flourish at the club.
"Nicklas stood out in the West Brom game," he said. "But it is important for us to have him performing at that level week in and week out. For that to happen, we will have to help him and give him chances to score."