Sven - We deserved it
Sven-Goran Eriksson believed Leicester deserved their win, while Sean Dyche thought Watford showed too much respect.
Last Updated: 19/10/11 11:12pm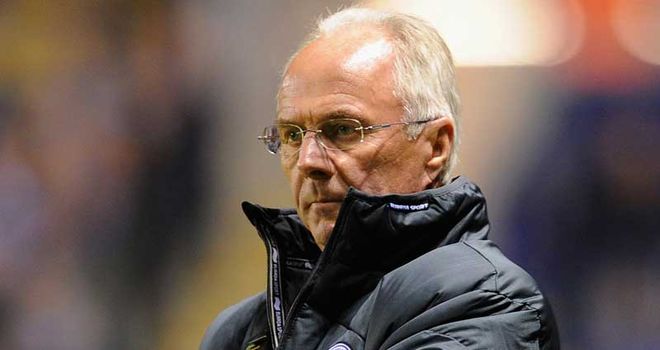 Sven-Goran Eriksson believed Leicester deserved their 2-0 win over Watford, whose boss Sean Dyche thought his side showed too much respect.
The Foxes won thanks to David Nugent's 19th-minute opener before Jermaine Beckford hit his first goal for the club to make sure of the points.
The result lifts Leicester into the top half of the table, with Eriksson's side sitting in ninth place, just a point off the play-offs.
He told Sky Sports News: "I think we deserved it, we had a very good first half, a less good second half, we couldn't keep the ball as well as we did first half.
"But we created good chances in the first half and probably could have scored more goals."
Eriksson was relieved to see Beckford get off the mark and hopes the striker can now push on.
"Strikers live for goals, so it was important (he scored tonight) as I know he felt the pressure," Eriksson said.
"He came here and got injured and hadn't scored in the games he played before today. So it was very good that he scored.
"I had a chat with him yesterday. It is very easy for strikers to become very frustrated, I don't know why. It was good to see him happy after the match because he also played very well.
"He ran into the channels, which he is good at, and he helped the team defend. He was very good, especially in the first half when he did exactly what I asked him to do.
"It's off his mind now. It's good for him and good for us. He has the ability to be one of the top scorers in the division."
Respect
Watford boss Dyche believed his side got better in the second half after showing too much respect to the Foxes early on.
He said: "We showed too much respect first half and that can happen when you come to the big clubs.
"We've had a couple of bad results and so to get off without showing respect and to be really on the front foot is difficult in a place like Leicester.
"They've got real quality, they've got some big players and some good players.
"We turned it around second half and that was a real positive for us. We were on the front foot, didn't show them so much respect, played forward and really took the game to them.
"So that's a big positive going into the next game."