Kalou seeks guarantees from AVB
Striker Salomon Kalou has told Chelsea he wants to be guaranteed more game time before he commits his future to Stamford Bridge.
Last Updated: 20/10/11 7:49am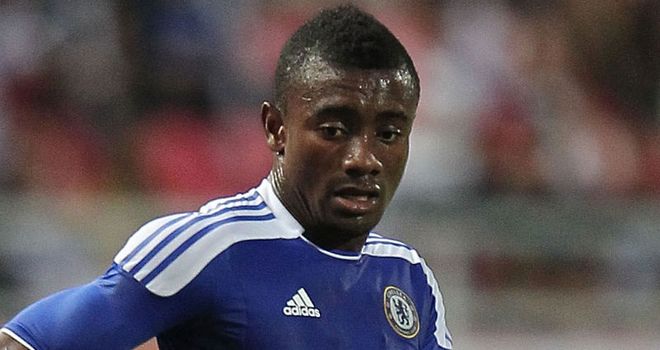 Chelsea striker Salomon Kalou has told the club he wants to be guaranteed more game time before he commits his future to Stamford Bridge.
Kalou had appeared set to depart West London when his current contract expires next summer but manager Andre Villas-Boas revealed last week that negotiations had begun with the frontman over extending his deal.
The parties need to reach an agreement before January if Chelsea are to avoid risking Kalou leaving for nothing, and the 26-year-old has spelt out his terms, chiefly that he wants to be elevated from the fringe status he has endured since joining the club five years ago.
Game time
"That's what every player wants to have, game time," said Kalou, who once again found himself on the bench in the 5-0 UEFA Champions League thrashing of Genk.
"Because if you're not playing every weekend, how are you going to improve yourself?
"So it's very important to play to improve and to push yourself to the limit.
"That's what I'm looking for."
Kalou, who started the first two Premier League games under Villas-Boas but has been in the XI just once since, added: "We're still talking and hopefully the club is putting itself in a good position and me myself as well.
"I think we're going to agree on something good.
"I want to stay, I want to be here. I like Chelsea. I've had a fantastic five seasons here and won some prizes.
"Chelsea are looking forward to the future and I'm still a young player and I think my future can be here."
Kalou took full advantage of a 22-minute cameo last night to net his first goal of the season.
The strike capped Chelsea's equal biggest Champions League victory as they showed no mercy to their injury-ravaged ravaged opponents to stay top of Group E.
Performance
Asked if Genk were one of the worst sides he had faced, Kalou said: "You cannot take away the good performance of Chelsea.
"We played good football and we scored very early, so that gave us also the opportunity to create more chances.
"So I cannot say we played the worst team."