Evans admits form struggle
Manchester United defender Jonny Evans has admitted that his level may have dropped last season because he relaxed too much.
Last Updated: 20/10/11 1:36pm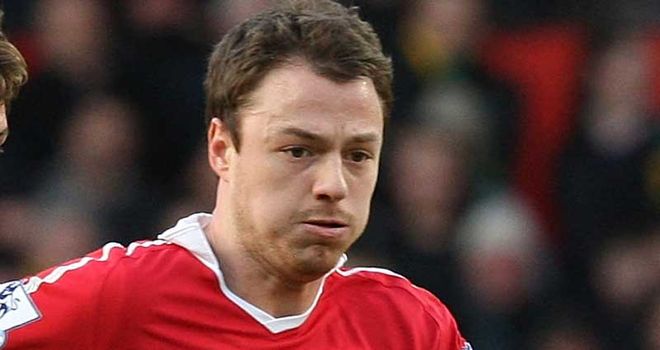 Jonny Evans has admitted that his level may have dropped last season because he relaxed too much, and it has taken some harsh words from friends and family to help him get back to form.
The Manchester United defender had been making impressive progress during the early part of his Old Trafford career, to such an extent that Gerard Pique was allowed to return to Barcelona in the summer of 2008.
However, he seemed to take a backward step last term with a series of less than convincing performances, which even he concedes came as a surprise.
"If you look back over the years a lot of youngsters have come into the team and had a good season or two, then taken a little dip," said the Northern Ireland international.
"Sometimes you do think you are immune from it and maybe I took my eye off the ball a little bit.
"Maybe I relaxed a bit too much and thought it was going to come as easily as the previous two seasons.
"All of a sudden it hits you. You just have to regroup and have a word with yourself."
Down to earth
Evans has bounced back well this season to re-establish himself as a key component in the United defence, starting important games against Tottenham, Arsenal, Chelsea and Liverpool.
Evans' appearance in Tuesday's Champions League win over Otelul Galati in Romania was his ninth of the season, although with Rio Ferdinand and Nemanja Vidic available for Sunday's Manchester derby he is sweating on his place again.
The 23-year-old is nevertheless happy with his contribution so far this term and has thanked those closest to him for their assistance.
"I have enough family and friends around me who are happy to bring me down to earth," he said.
"I have friends who would say, 'You didn't play too well today'. At the time, I might think they are being cheeky but they were right. They will tell you.
"Sometimes you have to take on board what the people closest to you say. You have to be honest with yourself as well."
Pressure
Those close friends delivered the assessments that mattered, as well as the reassurance Evans had the class required to make it at the club he supported as a boy in Belfast.
"I feel more assured now," he said.
"When you go through a stage of not playing well, there is a bit of pressure.
"Sometimes you can feel the crowd are getting on your back. In the end it was a case of 'stuff it, what have I got to lose'.
"The thing in my favour was that I have never been one to shirk a challenge.
"Whenever things are tough, I always feel as though I can respond and not hide away.
"Now I go out there and relax, play my football and go home."