Jol - A frustrating evening
Martin Jol felt Fulham endured a 'frustrating evening' after Moussa Dembele was sent off and Orlando Sa was injured against Wisla.
Last Updated: 20/10/11 10:01pm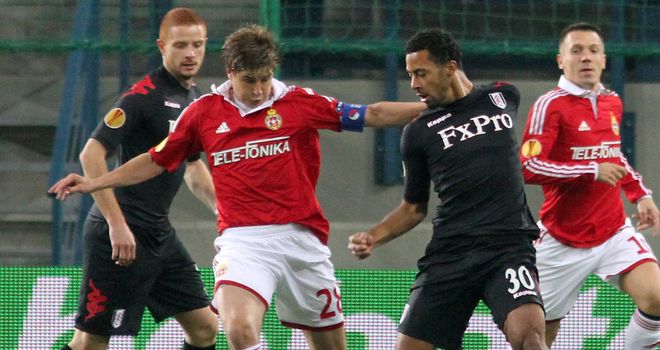 Martin Jol felt Fulham endured a 'frustrating evening' after Moussa Dembele was sent off and Orlando Sa suffered an injury in the 1-0 defeat by Wisla Krakow.
David Biton struck the only goal of the Europa League Group K tie on the hour mark after Dembele had been dismissed in the first half for pushing Gervasio Nunez.
The Argentinian midfielder went down clutching his face despite being pushed at shoulder height, leading referee Martin Hansson to hand Dembele a straight red card.
"You could say it was a frustrating evening," Jol said after the match. "Before the sending off I think we were in control.
"The pace was good, possession play was good and I was very satisfied.
"Then we got a straight red card and that makes it difficult for any team.
Awful night
"After that they had more confidence, of course, because they played with 11 players and it was an awful night for us.
"Even after that we should have had a couple of decisions. You can't say anything about the referee, bad or good."
Jol's sense of injustice in Poland was strengthened by the Swedish referee's failure to send off Ivica Iliev in the opening minutes and decision not to give Osman Chavez a second booking sooner, as well as the Dembele incident.
"Referees make decisions but I would say that in the first minute one of my players was kicked and it should have been a red card," he added.
"Okay, he didn't give it. There were three other fouls but we didn't complain.
"We are an English team, we stood up and got on with the game. But it was disappointing in the second half. Pajtim Kasami had his shirt pulled and it should have been [Chavez's] second yellow card but he didn't do it. It was probably the big difference tonight.
"Of course we would never complain about the red card but it was a push on the shoulder.
"After being kicked. He made a meal of it."
Target man Orlando Sa could also be a doubt for the rematch with Wisla in a fortnight's time after he hobbled off with what looked to be a hamstring injury in the second half.
"It could be a real problem," Jol said of the injury. "It could be weeks [he is out for]."