Jol wants Uefa action on divers
Fulham manager Martin Jol would back retrospective action for simulation after seeing Moussa Dembele sent off in Poland.
Last Updated: 21/10/11 6:35pm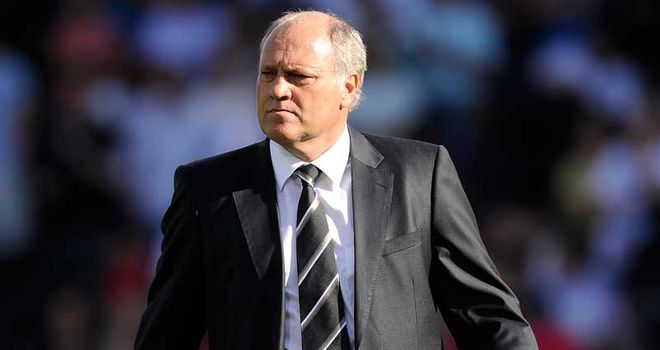 Fulham manager Martin Jol would back retrospective action for simulation after seeing Moussa Dembele controversially sent off in Poland on Thursday night.
The Belgium international was handed a straight red card in the 29th minute of the Cottagers' 1-0 defeat to Wisla Krakow in Europa League Group K.
The incident occurred when an innocuous passage of play flared up, with Dembele pushing over Gervasio Nunez after he caught him on the back of the ankle.
Nunez went down clutching his face despite being pushed at shoulder height, and Jol believes retrospective action by Uefa for such play-acting would be a good move.
"That would be something to look at in the future," he said. "I feel [Dembele] should not have raised his hand, but, having seen it again, I don't think it is a red card.
Exaggerated
"I spoke with him because we were very disappointed. Everything was for nothing because of that action and he knows that.
"You can approach it very positively and say it was not a red card, but, on the other hand, he shouldn't have done it.
"But if Uefa was to look at that situation they would see it was exaggerated a lot. It was a little push on his shoulder, but you can't do anything about it.
"We're not the first in history that has happened to, but we have been punished twice - you miss the player in the game and he misses the next one as well."
While banned for European action, Dembele will play a part in Sunday's Premier League clash against Everton and will be joined by the returning Clint Dempsey and Bobby Zamora.
Knocks
Fulham skipper Danny Murphy will also feature after overcoming a knee injury and will be joined in the squad by Philippe Senderos and Zdenek Grygera, who have recovered from respective knocks.
Summer signing Bryan Ruiz could also feature if he passes a fitness test on Saturday, meaning just two first-team members are definitely out of contention.
"Orlando Sa is out for the next couple of weeks with a hamstring injury from last night," Jol said.
"If you say he will return then, that would be very positive. It could be three or four weeks as well.
"Simon Davies is training outside now and our target for his return is the end of November. They're the only ones who will definitely not be available for Sunday's game."