Bent eyes Euro vision
Darren Bent is determined to become a regular in the England side ahead of the European Championship next summer.
Last Updated: 22/10/11 11:43am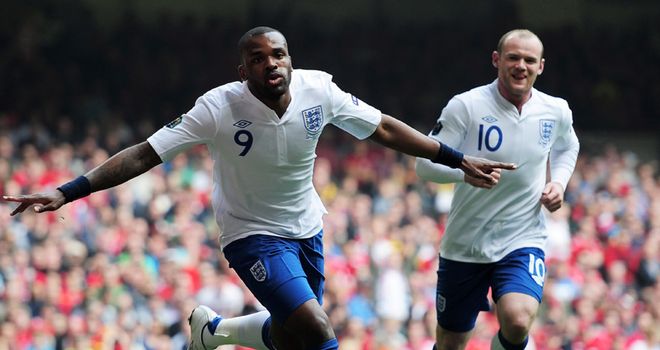 Darren Bent is determined to take his opportunity and become a regular in the England side ahead of the European Championship next summer.
The Aston Villa striker does not want to get involved in the furore surrounding Wayne Rooney and his red card in Montenegro and is only thinking about his own chances of claiming a spot in Fabio Capello's starting XI.
Bent, who was top English goalscorer in the Premier League last campaign with 17 goals, has struggled to establish himself at International level, but now with Rooney set to miss the Three Lions' opening group games in Poland and Ukraine, he is ready to seize the opportunity.
Gutted
The 27-year-old told the Daily Star: "All I'm doing is wondering about myself and trying to get into the squad and play as well as I can. Obviously everyone is gutted for him, especially as it's an international tournament and they don't come around often.
"It will be a big blow for the team as he is a world-class player. But this is the time for everyone to rally round and show we can win if he is there or not.
"To get picked would be a dream come true for me and mean a lot of years of hard work has paid off.
"You always dream about going to a major competition, scoring a goal and England doing really well. If that happens this time round I'll be over the moon."
With Capello set to look to his youngsters for the upcoming friendlies against world and European champions Spain on November 12th and then against Sweden three days later, Bent feels that all England's strikers will be eager to show what they can do.
"It (Rooney's ban) gives everyone the chance to show what they can do," said Bent, who scored three of his four England goals in Euro 2012 qualifiers.
"It's like you are on trial again. You want to be in the squad and it's up to Fabio to pick who he thinks is best."
Established
And when asked if he feels established in the England setup, he added: "No! People like Gerrard and Rooney, you know if they are fit, 100 per cent they are playing.
"I would like to be like that but it's not happened yet even though I'm playing well for England and scoring quite a few goals.
"If it doesn't happen now then it probably won't. But at the same time, the main person I care about is Fabio Capello and if he picks me that is all that matters and I will be happy."