Sturridge - I've matured
Daniel Sturridge believes he has matured after being perceived as arrogant upon arriving at Stamford Bridge.
Last Updated: 22/10/11 12:32pm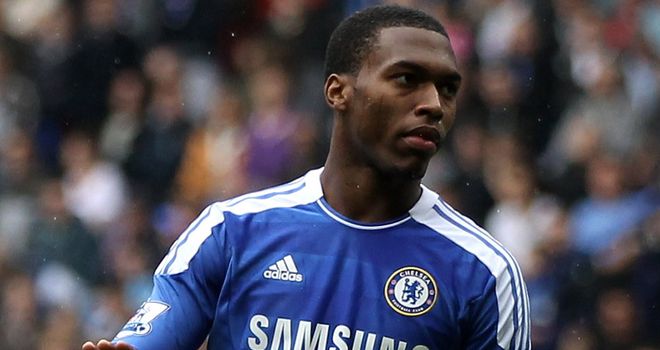 Chelsea striker Daniel Sturridge believes he has matured after being perceived as arrogant upon arriving at Stamford Bridge.
The 22-year-old, who has been in fine form for The Blues of late, joined as a teenager from Manchester City in 2009 on a four-year contract.
Sturridge moved to West London as a confident youngster and he has acknowledged that some of his statements were 'ludicrous'.
"I said some things when I first signed for Chelsea that made people ask, 'who does this kid think he is?'" Sturridge told The Sun.
"I was just a young guy who had left Manchester City for compensation only. I'd never done anything in football or started regularly in anyone's first team.
"In my mind, I knew where I wanted to go and I thought I was just confident. Now I realise I came across as arrogant as the things I said were a bit ludicrous.
"But anyone who meets me knows I'm not like that and people are starting to recognise that."
Opportunities
Sturridge found first-team opportunities few and far between under former manager Carlo Ancelotti, culminating in a loan move to Bolton last season.
The admits it was a gamble going to The Reebok, however, the move proved highly-successful with eight Premier League goals in just 12 appearances.
"I don't know if Ancelotti rated me or not because he didn't give me the opportunity to play," he continued. "Carlo was a great boss who had the job of picking a team to win the Premier League. And in his first season in charge he achieved that target.
"But all the time I felt I was only ever fighting for a place on the bench. And that was the hardest thing for me to deal with. I was impatient for regular first-team football.
"The club eventually agreed to lend me to Bolton and that changed everything. It was a gamble. I could have gone away for five months, failed to make an impression and who knows where I would've been now.
"But I had a new lease of life at Bolton. Owen Coyle restored my confidence and I'll never be able to repay him and his staff for that. Going to Bolton made me mature and showed me what football is all about.
"Owen wanted to keep me at Bolton but I was determined to come back here and have one more go at getting into the team. I returned with the mindset I had nothing to lose. I'd been through so much and said even if I failed to make it at Chelsea it wouldn't be through lack of effort.
"It felt like signing for the club again. I was back to square one, fighting for my place, trying to impress the boss. But I never expected things to go as well as they have done and I'm focused on succeeding at Chelsea.
"The new manager, Andre Villas-Boas, has changed everything since he came in. It doesn't matter if you're 17 or 25, he treats every player the same.
"It's no longer about individuals, the big players, the young players, the foreign players or whatever. If all the focus is on the stars, the team won't succeed. So now it's all about the Chelsea family going in the way the manager wants."
Call-up
Sturridge has been watched by England boss Fabio Capello and the youngster is not writing off the possibility of winning a place in the Italian's Euro 2012 squad next summer.
"It would be a dream to be involved in any England squad. But I'm not obsessing about my chances of a call-up for the Spain game next month," he concluded.
"My view is anyone who is regularly playing well for Chelsea is going to have a chance of caps. Being on the plane for the Euro 2012 would be an unbelievable privilege. But I'm also eligible to play at the Olympics and that would be amazing. But, right now, it's about doing well for Chelsea."