Davies speaks on narrow escape
Derby striker Steven Davies has revealed that he has had 10 metal plates inserted in his head after narrowly escaping brain damage.
By Subhankar Mondal
Last Updated: 22/10/11 3:06pm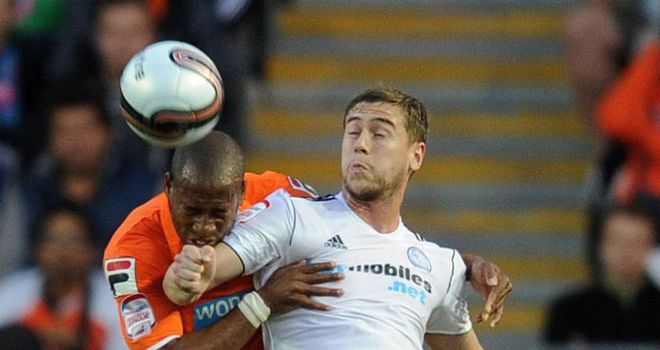 Derby County striker Steven Davies has revealed that he has had 10 metal plates inserted in his head after escaping brain damage by millimetres.
The Rams' top scorer this season fractured his skull during his side's 1-1 draw with Southampton in the Championship at Pride Park last Saturday and has been ruled out of all footballing action for 12 weeks.
The injury could have been more severe for Davies, as the striker explained following his five-hour operation that involved 16 stitches, an artificial bone and 22 screws.
"It could have been a whole lot worse because it was millimetres away from possible brain damage, millimetres from being career-threatening," said the 23-year-old.
"On Saturday night the surgeon talked about cutting from ear to ear right across my skull and going in that way to repair the damage.
"That terrified me. I said I didn't want that doing and at that time, I still thought it was just a little depressed fracture.
"The surgeon did the operation through my left eyebrow.
"He said later that if he'd known how much damage I had done he would have made the cut right across my head and gone in that way.
Metal plates & screws
"When he told me he'd put 10 metal plates in, I was shocked. He said he couldn't put my skull back together given how badly it was damaged.
"So he had to make a bridge and fill it with artificial bone to get my head back to its normal shape.
"The 22 screws are in there to make sure everything is held together properly. The skull has two layers and the first layer was smashed.
"I went into theatre at 9am and they said I would be out by noon. But when they started to operate, they found out how severe the damage was and eventually I came back from theatre at about 2pm.
"The surgeon told my wife, Sacha, the injury was a lot more complicated than they thought and a lot more serious. I have a wife and two young kids.
"It must have been awful for the surgeon to have to say to them that it could be a lot worse than first thought. And that he did not know how I was going to be when I woke up."