Faurlin recalls tribunal stress
Alejandro Faurlin has said he was left to feel like he was on trial for murder during the tribunal which threatened QPR's promotion last year.
Last Updated: 23/10/11 6:44pm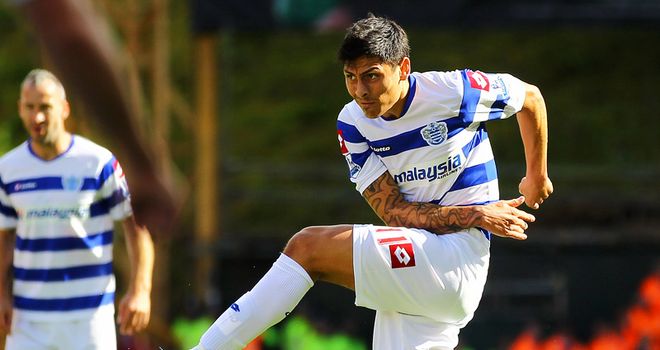 QPR midfielder Alejandro Faurlin has said he felt like he was on trial for murder during the controversial tribunal which nearly wrecked the club's bid for promotion last year.
Rangers dominated the npower Championship for most of the season and appeared to be coasting towards their dream of gaining promotion to the top flight of English football for the first time in 15 years.
Those dreams were in danger of being shattered in March when the FA brought charges against the club for breaching regulations over the transfer of Faurlin in the summer of 2009.
Tribunal
For two months the Argentinian along with several club representatives were hauled before the FA to explain the circumstances that surrounded his transfer from Institute FC.
The 25-year-old has said he was relieved at the decision but admits the ordeal of the tribunal was tough.
"Imagine that week - on Thursday I had been in Wembley to declare [in front of the panel]. I felt like I had murdered someone," Faurlin said.
"I was made to swear: 'I shall speak the truth, the whole truth and nothing but the truth'. It was very tough and hard, not just for me but for people around me - the club and the group.
"We worked really hard last season and were always top from the beginning to the end. We worked hard for every single point, so imagine if you let down your team. It wasn't all me, it was my contract and QPR, but my name was there and you really feel it.
"We were really, really happy everything finished in the right way otherwise I would have felt very bad in that moment."
The one thing that helped the midfielder through the ordeal, was the support of the staff at QPR to whom he is eternally grateful.
"The support was super, the fans, the group, the manager, the staff, everyone. They all made me feel good, so I was really pleased and now I want to say thank you to them," he added.
Regular
Faurlin has been an ever-present in the Rangers midfield despite the acquisition of the likes of Joey Barton and Shaun Wright-Phillips since Tony Fernandes bought the club.
Unlike many other Argentines, Faurlin has adapted well to life in England, and the physical nature of the Premier League.
He does admit to not being a big fan of the weather in London, but has otherwise become easily accustomed to life in Britain.
"I watch Deal or no Deal every day and X-Factor with my son as he goes to sleep. I quite like fish and chips and apple pie with custard. I love that one," he added.