Vicente - I'll play anywhere
Vicente is happy to play anywhere for Brighton after admitting English football is living up to some of his expectations.
Last Updated: 24/10/11 10:02am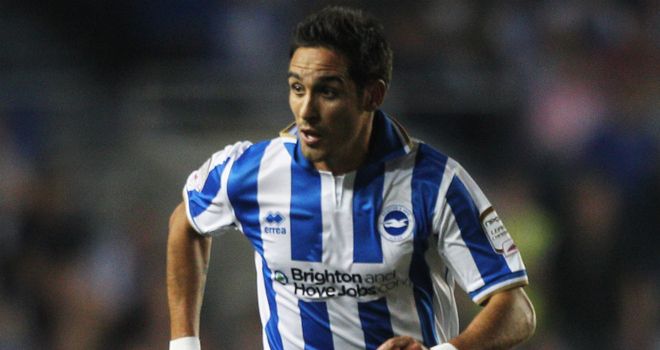 Vicente insists he is happy to play anywhere for Brighton & Hove Albion after admitting English football is living up to some of his expectations.
The Spaniard joined the Championship club last month after leaving Valencia in the summer and he has made five appearances for Gus Poyet's side to date.
He has started the Seagulls' last two matches and has no qualms about whether he is required to play on the wing or as a playmaker.
"I had to wait for a few games, which was a bit frustrating, but I knew that I needed to get fit before I would be ready to play," Vicente told The Independent.
Basic
"I expected English football to be faster than Spain, and it is. Some of the challenges are hard, but they are in Spain, too. Maybe I can say that they are more basic here.
"Wherever the coach wants to play me is OK. I don't think I'm suddenly always going to be a midfield player or a 'No 10' and I'm happy to play wide if that's what the plan needs.
"Often my role will depend on the other midfield players. We can play in several different formations."
Meanwhile, Vicente's team-mate Craig Mackail-Smith is keen for Brighton to push for promotion to the Premier League after a positive few weeks for club and country.
The Scotland international striker said: "To play for my country against Spain and then be involved with Brighton means it has been quite a few weeks for me.
"It was fantastic to play Spain and that is what you aim to do, to play against the world's best. To be on that pitch and play the full 90 minutes was superb. I want more of that now.
"It has been good coming back to Brighton. The aim is still to get promoted. We want to be pushing to get into the Premier League."