Wickham eyes starting spot
Sunderland youngster Connor Wickham has stated his ambitions to retain a first-team place after starting against Bolton.
Last Updated: 24/10/11 2:57pm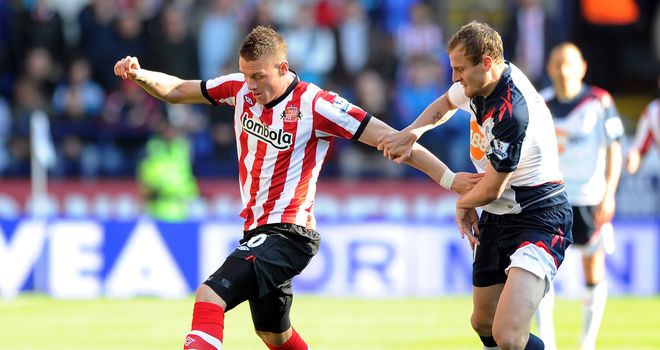 Sunderland youngster Connor Wickham has voiced his determination to keep a place in the starting XI after an impressive display against Bolton .
The 18-year-old started a Premier League game for the first time last Saturday as goals from Stephane Sessegnon and Nicklas Bendtner earned Sunderland a 2-0 win.
Wickham has been forced to bide his time for a start since his summer move from Ipswich and admitted the difficulties in breaking into the first team due to the competition from his fellow strikers.
He is now hoping his performance against Bolton was enough to claim a spot this Saturday when the Black Cats face Aston Villa at the Stadium of Light.
"Of course it's been difficult; I want to play but there's lots of competition and that's good for me," he told the club's official website.
"Nick, Sess and Ji (Dong-won) are all doing well so I will have to keep pushing myself.
"But I've got my first start now and hopefully I've done enough to show the manager what I can do.
"He asked me to go out and work my socks off and I tried to do that."
But Wickham was quick to switch focus onto his team-mates after the victory at the Reebok Stadium despite hitting the crossbar himself.
"I was happy with my own contribution but I can't say that just myself in particular played well," he added.
"All the boys were excellent and that showed on the pitch."