Arsenal ace targets Blues scalp
Johan Djourou feels victory over Chelsea for Arsenal this weekend would prove they are back on track.
Last Updated: 24/10/11 1:42pm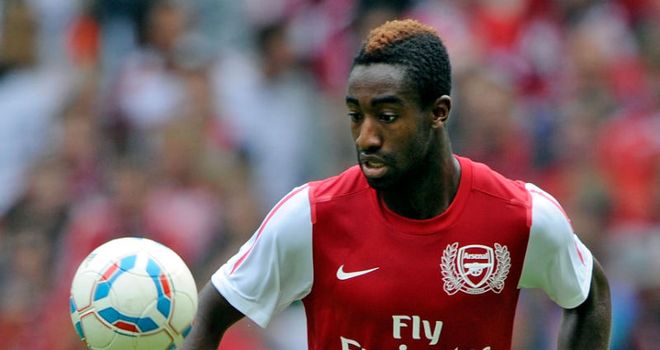 Johan Djourou feels victory over Chelsea for Arsenal this weekend would prove they are back on track.
Whilst the Gunners were securing a 3-1 win over Stoke City on Sunday, Chelsea limped to a 1-0 defeat at West London rivals Queens Park Rangers.
Arsenal travel across the capital to Stamford Bridge in Saturday's early kick-off and Djourou feels victory would put them back on track after a less than convincing start to the new season.
"I think it would prove that the team is getting back on track," he said.
"We shouldn't put too much pressure on ourselves because we have a game on Tuesday first which is very important as well.
"It is a massive game like any other but they are a top-four team and we want to get a result.
"The most important thing is playing our game. If we can stick to that and play the way Arsenal play we are going to be dangerous.
"I think that the team is starting to build up slowly. There were a lot of questions about this team but I think that we showed we have the character and the quality to do something.
"We are not concentrating on anything else but thinking about game after game. We just want to get results and the three points."
Djourou featured at right-back against Stoke, and he insists he was happy to do so, adding: "It's OK. I just want to play!
"I love my sport, I love my football - whether that is playing centre-back or right-back if I have to. It is a pleasure, and with a win it is always a good thing."
Tribute
The Swiss also paid tribute to attacking duo Robin van Persie and Gervinho , who inspired their win over Stoke.
"Robin did [make the difference]. It is under no question how important he is to the team but I think Gervinho also had a great game," he continued.
"He got two assists for Robin and the two combined very well together. It was a great sub by the boss.
"We have to keep him [Van Persie] like this, it is good. He came on after being rested a little bit and made the difference again. It shows you how important he is to the team."