Milner - Best is yet to come
James Milner is confident no one has seen the best of Man City yet even though his club are breaking records week in, week out.
By Simon Porter
Last Updated: 24/10/11 4:48pm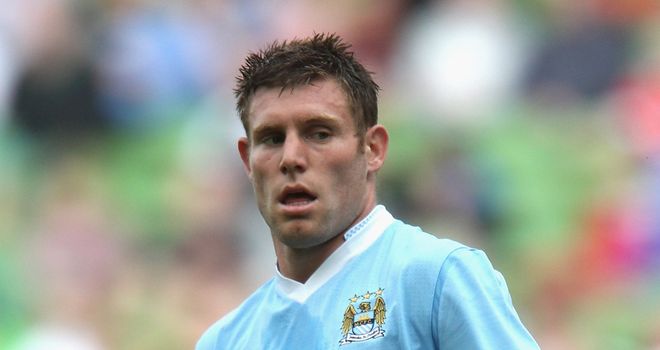 James Milner is confident that no one has seen the best of Manchester City yet even though his club are breaking records week in, week out.
City opened up a five-point lead at the top of the Premier League table on Sunday after thrashing local rivals Manchester United 6-1 at Old Trafford, but Milner believes that this is just the beginning.
He insists that the Citizens have still not fully gelled yet after the summer additions of the likes of Sergio Aguero and Samir Nasri.
"We want to keep improving as a team as well - we can get better," said Milner in the Manchester Evening News.
Confidence
"You have to keep your feet on the ground but it's also a case of riding the wave as well. We are back in for cool-down training today and then looking at Wednesday because we want to do well in every competition.
"The confidence is there and it's about keeping this momentum, putting in good performances and getting the results."
When asked whether he has ever been involved in such an impressive away win, Milner replied: "I've been involved in big away wins before - but never at Old Trafford! It doesn't happen too often! The sending-off changed the game but we played well, and restricted their chances.
"It's special going to United, and it's always going to be a tough game. We are big rivals so to get a win is great - and to win like that is fantastic.
"But we have to remember that it is just one result and is just early days in the season so we have to keep our feet on the ground.
"It is only three points, as it would have been if we had beaten anyone else. It's a great result for us as a club and as a team - and not forgetting the fans as well!"
Milner thinks that the dismissal of United defender Jonny Evans when City were leading 1-0 helped their attacking capabilities, but did not alter the final outcome.
"It gave us a lot more space to score more goals, but I felt we were well on top at that time anyway, and playing well," he continued.
"We deserved the win, and the referee got it right with the red card as well."
Milner is also in awe of his team-mate David Silva and he believes that nothing can stop the Spanish playmaker.
"We don't expect anything less than what we have seen from him," said Milner. "We see it every day in training, week in, week out, and he has won a World Cup, so nothing is going to faze him."