Bent dismisses Cats betrayal
Darren Bent has denied betraying Sunderland for Aston Villa ahead of his first appearance against his former club.
Last Updated: 25/10/11 8:47am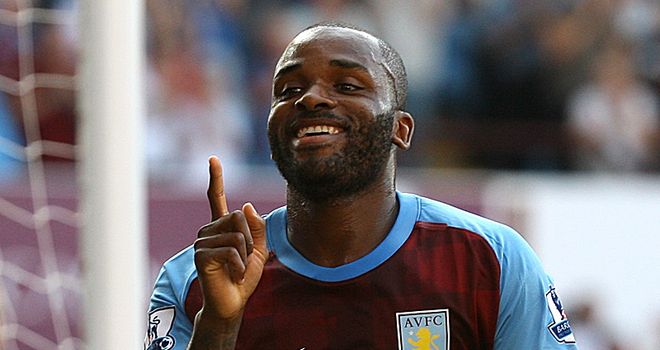 Darren Bent has denied betraying Sunderland for Aston Villa ahead of his first appearance against his former club this weekend.
The England international is poised to play the Black Cats for the first time on Saturday after leaving the Stadium of Light in January.
Villa agreed a deal with Sunderland that could eventually be worth £24million and Bent insists it was a 'good deal' for both parties.
The former Tottenham marksman thoroughly enjoyed his time in the North East and was disappointed with how things ended.
Bent has vowed not to celebrate against his ex-paymasters if he finds the back of the net out of respect for his old club and fans.
The 27-year-old has denied he left Sunderland for money, stating it was a 'football' decision and that he wanted to be nearer his family.
Disappointing
"I had 18 months at Sunderland and every single moment was fantastic," he told the Daily Mail.
"The way it came to an end was really disappointing because I felt like all the good work I did went out of the window, but I will always - always - look back on it with very fond memories, regardless of the reception I get at the weekend.
"Whatever happens, I will not celebrate if I score - there won't be any badge-kissing or anything like that - because I had such good times up there. I have huge respect for the people at Sunderland and what they did for me. I owe that respect to the stadium.
"I was delighted with life up there, I was settled and happy. I met good people and I made firm friends. It's a lovely place to live. When other people ask me about it, I always tell them that if they get a chance to play in the North East they should take it, because the fans are brilliant, everything revolves around football.
Opportunity
"Leaving was nothing to do with that. It was the opportunity for me to play for Aston Villa and I'm back close to home and my family. It gave Sunderland a lot of money, so it was a good deal for both parties.
"It may sound strange, but I take heart from knowing it's because I had such a strong relationship with the supporters that they were so angry when I left. I know they cared for me and I know they treated me as if I was one of their own - and I felt like one - so I can understand why it looked like a betrayal. But in my eyes it wasn't.
"A player's career is short and sometimes you have to take a decision. Sometimes it's not a popular decision but it was a football decision, one I realise fans can't take when it comes to who they support. So it hurt them. But it was nothing to do with money or greed - it was purely a football decision.
"There was an offer of £24m from Villa, there were already several England internationals in the squad and I thought it was a chance to build up a rapport and get into the England squad and then stay there. It happened."