Keeper plays down Bent return
Sunderland's Simon Mignolet believes the club should put Darren Bent's return to one side and focus on their current forwards.
Last Updated: 25/10/11 2:10pm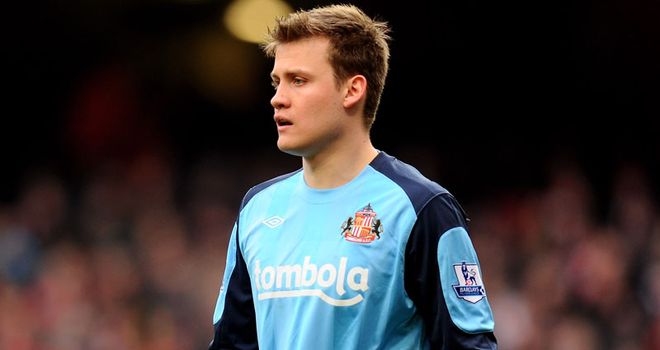 Sunderland goalkeeper Simon Mignolet believes the club should put Darren Bent's Wearside return to one side and instead focus on their current forwards.
The Aston Villa frontman is preparing to play his old side for the first time since making the £18million move to Villa Park last January.
The Black Cats supporters were disappointed with the manner in which he left the club and he is set for a hot reception at the Stadium Of Light on Saturday.
However, Mignolet has urged the players to ignore the fuss surrounding the England frontman and instead focus on the form of their current strike force - Connor Wickham and Nicklas Bendtner
"Supporters will be talking about Benty this week, but I don't think we can be focused on that. We have to focus on what we can do," the 23-year-old told the Newcastle Chronicle.
"Connor is a very strong lad, who works hard in training. He is always in the gym. It has been a tough start to the season for him, but he showed at Bolton he has a lot of potential.
"Nicklas Bendtner is a huge help for us, both with winning the high balls and scoring a few goals for us. Hopefully, that will continue.
"You get confidence when you start games and you help teams to win."
Fight
Steve Bruce's men grabbed only their second win of the season against Bolton on Saturday, lifting the club away from the danger zone.
Mignolet hopes the 2-0 win at the Reebok Stadium can kick-start their faltering campaign and they can make it two on the bounce against Villa.
"We needed a victory where we had to fight hard as a team and then come away with three points at the end," added the Belgium international.
"It is good for the team spirit and morale because after the Arsenal game everyone was a bit down.
"The whole season has not been easy and if you can win away from home then you are happy as a team.
"We have to move on and hopefully there is confidence in the team now and we can win against Villa. We have to get a run together.
"If you can win two or three games in a row, then you are in a much better position in the table and the confidence comes back into the side."